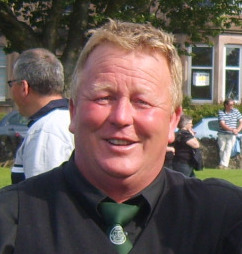 BORN: 1957

OCCUPATION:

WARDEN AT THE PORT MOR CENTRE

WHEN DID YOU START PLAYING?

AGE 11. I DIDN'T HAVE AN OPTION - MY FATHER PLAYED AND HE WANTED ME AND MY BROTHER ANDREW TO LEARN.

BIGGEST INFLUENCE:

MY FATHER, NEIL MCEACHERN

FAVOURITE BAND/TUNE:
PIPE BAND: FIELD MARSHALL MONTGOMERY

TUNE: 'FRASER ALLISON'S JIG' (at the moment)

OTHER MUSIC: WOLFSTONE, U2, COLDPLAY

LIKES/DISLIKES:

LIKES - CELTIC FC, LAGER, MY CAR
DISLIKES - DRUM CORPS, HOOKERS IN TENERIFE!!!


HOW DO YOU THINK YOUR FELLOW BANDMATES WOULD DESCRIBE YOU:

GRUMPY AS F*CK!!