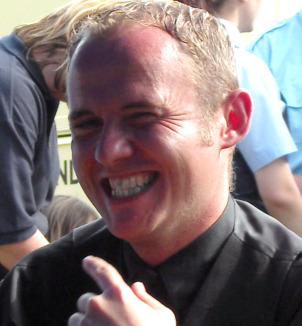 BORN: 1980
OCCUPATION:

PRESENTLY WORKING AT BUILDBASE, ISLAY

WHEN DID YOU START PLAYING?

1989. I GOT A DRUM FOR CHRISTMAS AT THE AGE OF 9. PLAYED IN UDDINGSTON STRATHCLYDE P.B, CARLUKE BARON OF LEE, STRATHCLYDE FIRE BRIGADE, SHOTTS AND DYKEHEAD AND NOW ISLAY.

BIGGEST INFLUENCE:

IAN MCLEAN, BARRY DONALDSON, FIONA DUNSMORE, JIM KILPATRICK AND NIGEL MORRIS

FAVOURITE BAND/TUNE:

PIPE BAND - SHOTTS AND DYKEHEAD
TUNE - 'DESERT STORM'
OTHER MUSIC: ROGER WATERS - AMUSED TO DEATH

LIKES/DISLIKES:

LIKES - WHEN PIPES ARE FINALLY TUNED
DISLIKES - WAITING FOR THE PIPES TO BE TUNED

HOW DO YOU THINK YOUR FELLOW BANDMATES WOULD DESCRIBE YOU:
LOYAL!