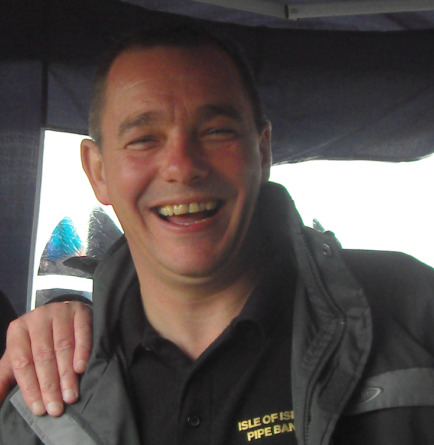 ABOUT IAN 'SCUNNER' CAMPBELL
BORN: 1968
OCCUPATION:

GAS ENGINEER

WHEN DID YOU START PLAYING?

7 YEARS OLD. MY FAMILY PLAYED THE PIPES SO I STARTED TOO.

BIGGEST INFLUENCE?
MY UNCLE - HE PLAYED AND WAS IN THE ARMY, SO THEN I STARTED & ALSO WENT TO THE ARMY (FOR 22 YEARS).

FAVOURITE BAND/ TUNE:

PIPE BAND - FIELD MARSHALL MONTGOMERY
TUNE - IT CHANGES ALL THE TIME

LIKES/DISLIKES:



LIKES - FOOTBALL
DISLIKES - RUDE PEOPLE AND BAD MANNERS

HOW DO YOU THINK YOUR FELLOW BANDMATES WOULD DESCRIBE YOU:
WOULD LIKE TO THINK 'SOCIABLE', & WHO ENJOYS THE CRAIC WITH THE BAND.