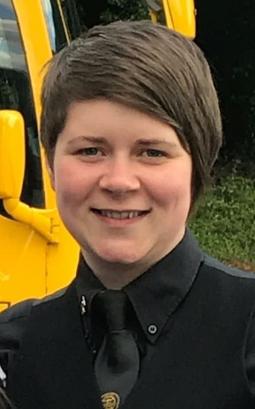 NAME: Cathy (Kate) Callaghan
YEAR OF BIRTH: 2nd July 1991
OCCUPATION: Nursery Assistant

WHEN AND WHY DID YOU START PLAYING:
My older brother joined a local pipe band and I was always at the practises, there was a drum pad sitting and I started hitting it and the year of 2003 I joined my first band.
YEAR YOU STARTED COMPETING WITH ISLAY PIPE BAND: 2017

BIGGEST INFLUENCE: Jim Kilpatrick

FAVOURITE TUNE TO PLAY: Train Journey North/Crossing The Minch

FAVOURITE PIPE BAND TO LISTEN TO: St. Lawrence O'Toole

FAVOURITE BANDS/SINGERS TO LISTEN TO (NOT PIPE BANDS):

The Script, Ed Sheeran, George Ezra
OTHER HOBBIES YOU HAVE:

I also play in Coleraine Fife & Drum so that takes up sometime. Love finding new places to go on adventures. Watching my local football team, Coleraine FC.
FAVOURITE MOMENT IN ISLAY PIPE BAND:

Winning the UK Drumming at the UK's 2019

HOW DO YOU THINK YOUR FELLOW BAND MATES WOULD DESCRIBE YOU IN 3 WORDS: