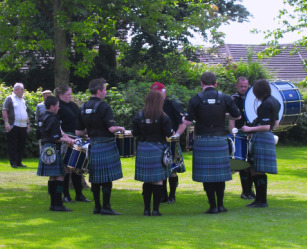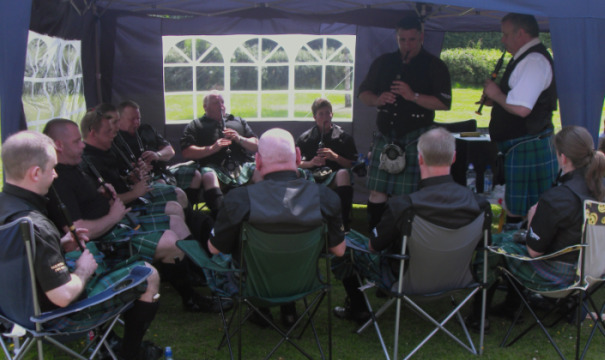 Islay Pipe Band travelled to Annan last weekend to compete in the British Championships. We were first on in our grade at 2.00pm - we played very well and were delighted to gain 7th place, just one place outwith the prizes. The pipe corps were awarded a 2nd place by one piping judge and the drum corps climbed a few places as well, so all the hard work is paying off.
*We met Karl Savage and his wife Rosa who moved to the borders from Islay around 17 years ago. It was really nice of them to make the effort to come and support the band.
On the 22nd May, Islay Pipe Band competed at our first competition of the year - the Scottish Championships at Dumbarton and we finished 11th in our new grade - 3A. There were a few errors by both drummers and pipers, but at least we know we can't afford any mistakes now when up against a lot of really good bands.
Our next competition is the British Championships at Annan at the end of June, where this time we will be required to play a March, Strathspey and Reel, so it's down to more hard work in the meantime and we'll see how we do there.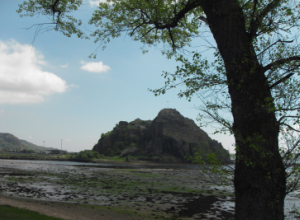 INTRODUCING 'THE SPIRIT OF ISLAY PIPE BAND'

You may have seen many of the youngsters playing alongside us during the whisky festival and didn't they all do really well!! All of their tutors are very proud of them and you can enjoy seeing them all again at the Beach Rugby on the 12th June. (The band's next fundraiser will be a disco the night before the Rugby - we hope to see you there!)

APRIL 2010
The band would like to thank fellow Ileach Robert Mackenzie who is holding a fundraising Ceilidh for the band on Friday 23rd April at Glasgow's Hillhead Rugby Club.
Music will be provided by Iain Prentice's 'Sound of Islay' and some Islay Pipe Band members will be there to perform as a mini band. For more information regarding tickets, contact band secretary James McEachern: (01496) 850392.
A huge thanks also to Jim Johnston and Diageo for the sum of £1000. Jim's efforts in helping us at the New Year's dance resulted in this donation. His son Ryan is busy learning the snare drum and it's great to see parents like him getting involved in raising funds for the band.
Hogmanay - Port Charlotte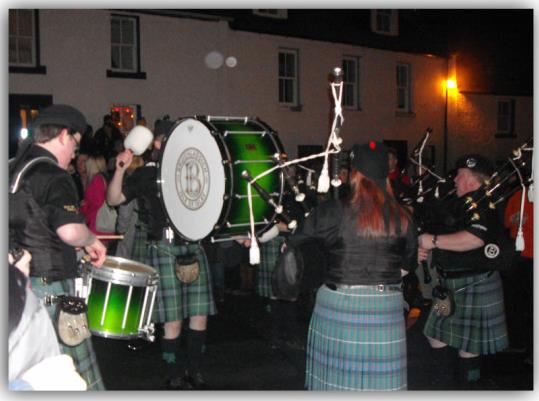 Islay Pipe Band bring in 2010 and entertain the New Year revellers in Port Charlotte.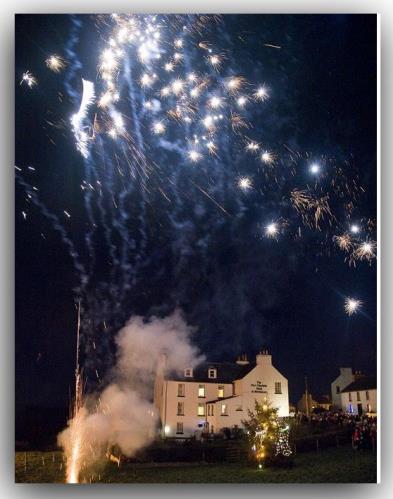 *The band would like to say a big thank you to everyone who has supported us this past year in every way. There are far too many, to mention you all, but a special thanks must go to the MacTaggart Third Fund and the Schroder Foundation for making up the shortfall when we lost our Black Bottle sponsorship.


PROMOTED . . . . . NOT AGAIN!!

The band has just had confirmation from the RSPBA, that they will be competing in Grade 3A next year.
To be promoted up the grades for the third consecutive year is an extraordinary achievement and quite a rarity in the pipe band world. While it probably would've been beneficial to stay in Grade 3B for another year and have the time to consolidate and strengthen the two corps before taking on 3A, the 'powers that be' have decided that Islay Pipe Band are ready for that particular challenge! So no pressure then - it's onwards and upwards again!!
It won't be an easy task. At this level the standard is considerably higher and the competing 3A bands are excellent and very much on par with each other - but with the characteristic drive and determination of Pipe Major Morris and his troops, you can be assured they will give it their all, and do Islay proud as always.
JURA MUSIC FESTIVAL
During the September weekend, the band was at the Jura Music Festival.
We played early on the Saturday afternoon and then held piping and drumming workshops with the help of snare drum tutor Jim Whitefield. Everyone was kept busy trying their hand, and then we played again in the late afternoon. Saturday evening was extremely busy with bagpipes and a ceilidh band playing in the hotel. There was a concert in the hall, while local Jura band 'Pete Smoke and the Roaches' played in a marquee. The dancing in the hall with Archie MacAllister and his Friends went on till..... well who knows....but it was late anyway..!!
The band were staying in a house up on a hill behind the Antlers Restaurant, and it was quite a dark walk up to it .......with the result that the bramble bushes claimed a few casualties on the way..!!

A great time was had by all and we would like to thank the Jura Festival Committee for asking us over.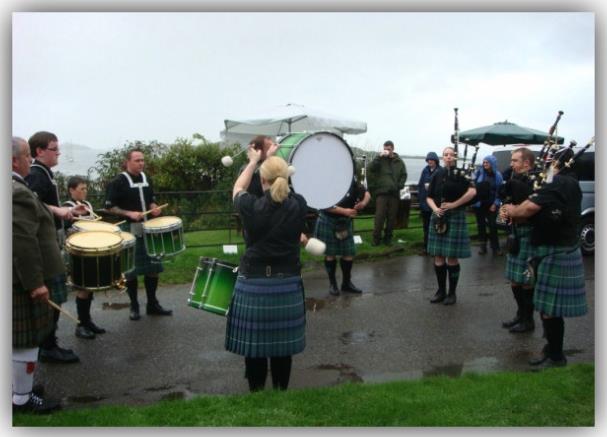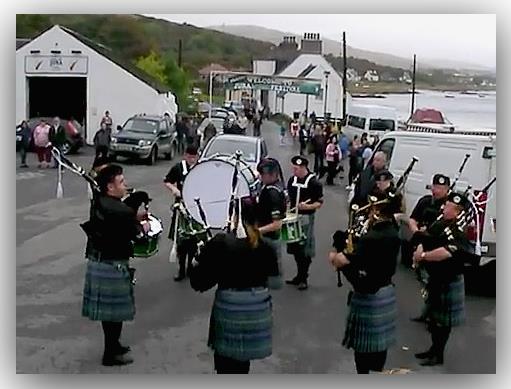 AUGUST 2009

AT THE COWAL GAMES: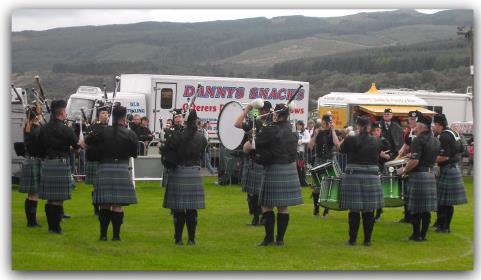 On the 29th August, the Islay pip
e Band travelled to Dunoon to compete at the Cowal Games. This was the bands last competition of the season and we hoped to finish on a high. We were playing at 10.48 in the Grade 3 arena, changing from playing the Medley this time, to a March, Strathspey and Reel. We thought we played really well and came off feeling reasonably happy: it was in the hands of the judges now......The weather had held off and it was only our friends from Badenoch & Strathspey Pipe Band who got a soaking, as they were last on to play.
The results were announced at 5.30: We came fifth and were delighted to take home our sixth trophy of the season - a magnificent effort from the whole band for our first season in Grade 3B.
Two of Ella Edgar's Highland Dancing prodigies, Emily Logan and Eilidh McDonald carried the trophy in front of the band as we marched down the street. The McColls Hotel where we were staying, had a ceilidh band playing for the night, so it was a very weary band which headed home on Sunday!
!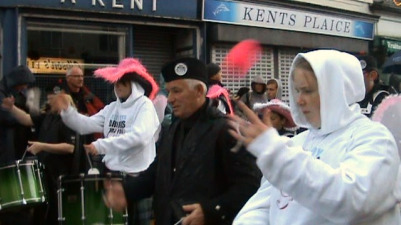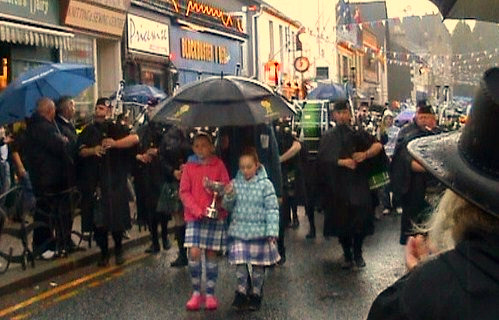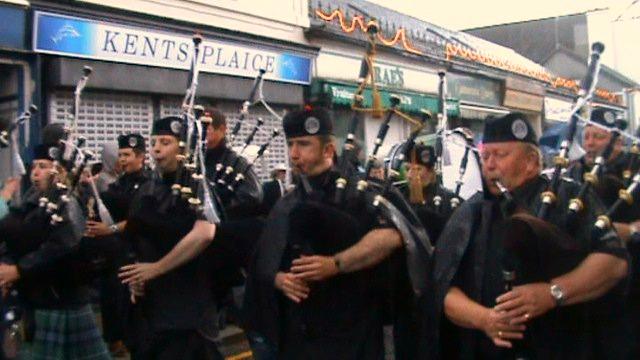 NEW SPIRIT FOR ISLAY PIPE BAND
Bruichladdich is to sponsor the award winning Islay Pipe Band.

The band were crowned Champion of Champions in 2008, after winning their grade at the Scottish, British and Cowal Championships and being placed 2nd at the European and World Champiponships. The band were hoping to compete in Grade 3B in 2009, but when Black Bottle, their major sponsor, pulled out in these credit crunch fuelled days we find ourselves in, a frantic appeal was made to find a new supporter, in addition to other emergency fund raising measures to keep the dream alive.

Islay Pipe Band should really ought to be supported by an Islay distillery at the various national and international events, so we are happy to be able to help in our humble way. We're not seeking to rename the band or anything like that - but luckily 'Bruichladdich Islay Single Malt' just about fits around the big drum!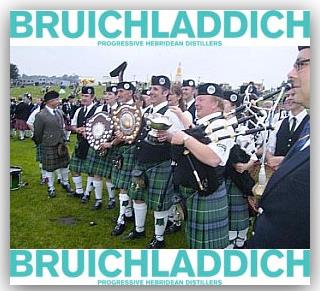 Footnote from Pipe Major Nigel Morris.
'The band will finish the 2009 season in August under the Black Bottle identity,
and we thank them for their past support.
ISLAY PIPE BAND AT THE WORLD CHAMPIONSHIPS:

On the 15th August, Islay Pipe Band competed at the World Championships in Grade 3B. We arrived at Glasgow Green at 8.00am - as you need to arrive this early in order to get your bus as close as possible to the action. The rain was pouring down, but we managed to get the gazebo up while Pipey went to register us.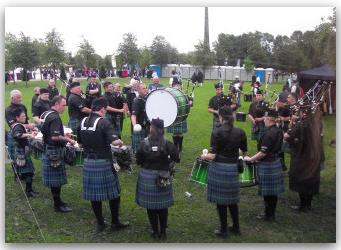 We were practising in the gazebo by 9.00, with another chanter practice at noon, pipes at 12.30 and competing at 1.40pm. We were 6th on out of the 27 bands in our grade.
The weather started to clear and our spirits rose. We played really well and came off the arena thinking we had done a good job - mind you so did a lot of other bands. The March Past and Results were at 6.00pm. Our grade was won by a South African band - Benoni MacTalla and well done to them! We were placed 7th overall (out of 27 bands) and were just outside the prizes - but there is always next year!
This Saturday coming will be our last competition of the year at the Cowal Games. I love Cowal - it will always be my favourite. Piping down the street at night gives everyone a huge buzz and hopefully we will have a trophy in front of us...........
The band would like to thank the owner of Oran Mor for letting us practise in the auditorium on the Friday before the Worlds, when the rain was lashing down outside. All we had to do in return was to play a few tunes in the bar - which went down well with the locals.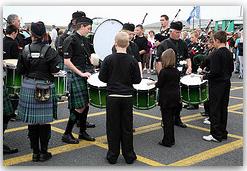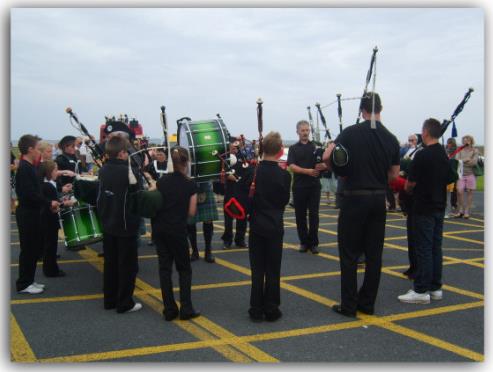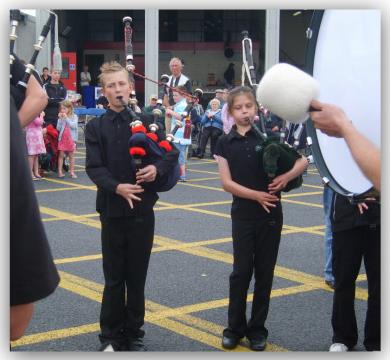 The band has just had another busy weekend, playing at the Islay Air Show and at Ardmore. Several of the learners played with the band for the first time in public at the Air Show and included eight pipers and three drummers - so things look good for the future. Well done to them all!
After Cowal the band will be having a few weeks holiday, but chanter practice will resume on 17th September at 7.00pm at ICCI in Bowmore.
JULY 2009
BALLOCH GAMES - LOCH LOMOND


Islay Pipe Band has been very busy in the last two weeks of July competing at Balloch on 18th July and at Inverclyde on 25th July. The minor competition at Balloch was in doubt as CalMac took our ferry away - there was no 7.00am sailing. So we phoned the organisers and who said they would put us on on last in Grade 3 - at about 3.30pm. To cut a long story short, we reached Balloch at 3.00pm. Pipe Major Morris went into overdrive and got us all 'singing'. We went on to play, came off, had a quick breather and then we were back on to play in Grade 2. As this was a minor competition you can play up a grade as well. The results were announced at 5.30pm so it was a quick day.... We were placed first in Grade 3 and second in Grade 2 so it was a happy bus that travelled back to Glasgow. The band congregated in the 'Islay Inn' where there were a few 'Islay Airs' and even some Irish dancing!


******

THE EUROPEAN CHAMPIONSHIPS - INVERCLYDE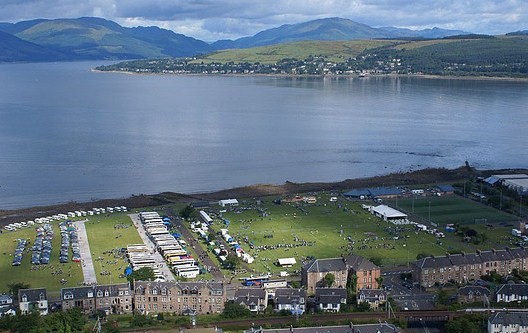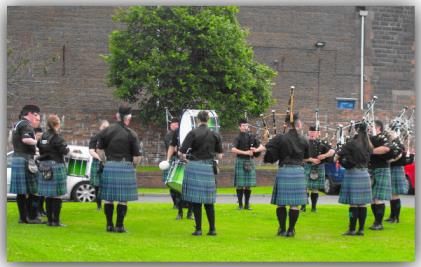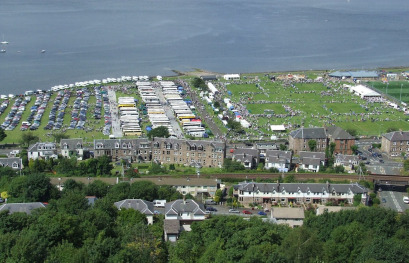 The Balloch competition was to prove a great warm up for the European Championships which were being held in Greenock on 25th July. Not such a rush this time as we were away on the Friday.
It was a beautiful day and the setting at Battery Park was just perfect. We were on sixth out of the sixteen bands in Grade 3B. Once again the sun shone on us, as we are now ...........
GRADE 3B EUROPEAN CHAMPIONS!!

What an achievement!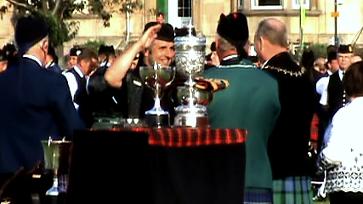 We would like to thank everyone for their support, financially and otherwise, as we couldn't do it without you.
Our next competition is the World Championships in August when there will be 27 bands in our grade which will be a huge challenge.
JUNE 2009
AT THE BRITISH CHAMPIONSHIPS IN IRELAND
Islay Pipe Band travelled to Ireland last weekend to the British Pipe Band Championships, leaving Islay on Thursday as we were catching the early morning ferry to Troon on Friday morning. We stayed at the Heritage Hotel in Glasgow, where the staff accept us as part of the family. - well worth a stay!

We left on the Seacat from Troon to Larne which took around two hours. We were staying at a guesthouse called the 'Gil-Good Lodge' which managed to fit us all in and we had the whole place to ourselves. The lodge lies about halfway between Belfast and Banbridge, where the competition took place, After a practice on Friday afternoon, we went into Belfast to do some shopping. The girls seem to have this down to a fine art, although a few were late back to the bus and big Andy was worried the dinner would be ruined! - it wasn't!! After dinner we had a chanter practice before turning in.

On Saturday morning the day was dull and drizzly, but we headed for Banbridge in good spirits, due to play at 10.54. The band played their set really well before going on to play for the Drum Majors competition. By midday we had the rest of the day to ourselves before the results announcement at 5.30pm.
This was the first time we had played our medley and we ended up with 3rd place, much to the delight of the whole band.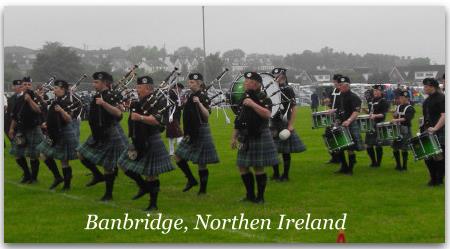 We headed back to the lodge where our hostess Annette had a lovely buffet prepared, but not before making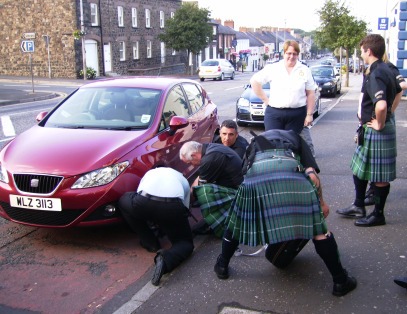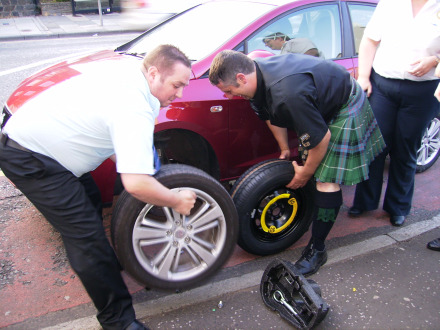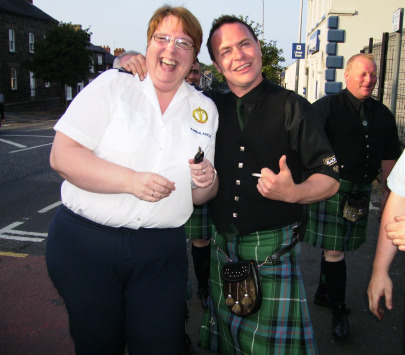 an unsceduled stop to rescue a damsel in distress, spotted by the roadside! Before having dinner we rounded off the day by playing a few selections from the whole band for a bus party who were dining in the Lodge.
We would once again like to thank everyone who has helped to support us either through donations or by supporting our fundraising events.