Islay Pipe Band competed at the UK Champions in Belfast on Saturday 11th June finishing in 12th place overall.
The following video is our performance on the day.
OCTOBER 2015
It has just been confirmed by the RSPBA Music Board that Islay Pipe Band has been promoted to Grade 2.
This is a magnificent achievement and a testament to all the hard work put in over the years. It saw the band progressing steadily through the grades from Grade 4b to the now dizzy heights of Grade 2. Everyone who has played in the band over the years has helped the band get to where it is today, so a big thank you to everyone.
The band would once again like to thank our sponsors, Kilchoman Distillery and also the MacTaggart 3rd Fund and Schroder Foundation for their support.
The band rounded off the season at the Cowal Championships and left with silverware to polish winning 1st- Grade 3 MSR,
1st - Grade 3 Medley. And in the Grade 2 competitions: 4th - MSR, 5th - Medley. It was a thoroughly enjoyable day and a fitting end to a memorable season.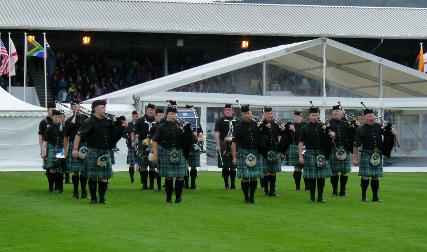 AUGUST 2015
ISLAY PIPE BAND CROWNED GRADE 3A CHAMPION OF CHAMPIONS
Although the Islay Pipe Band failed to continue this year's remarkable run of success at the World Championships on the 15th August, the band were delighted to be presented with the Grade 3A Champion of Champions Shield.
Despite a controversial and dissappointing adjudication in the Worlds qualifiying rounds, their hard work and earlier successes meant the band were rewarded with the prestigious title. Congratulations to everyone!!!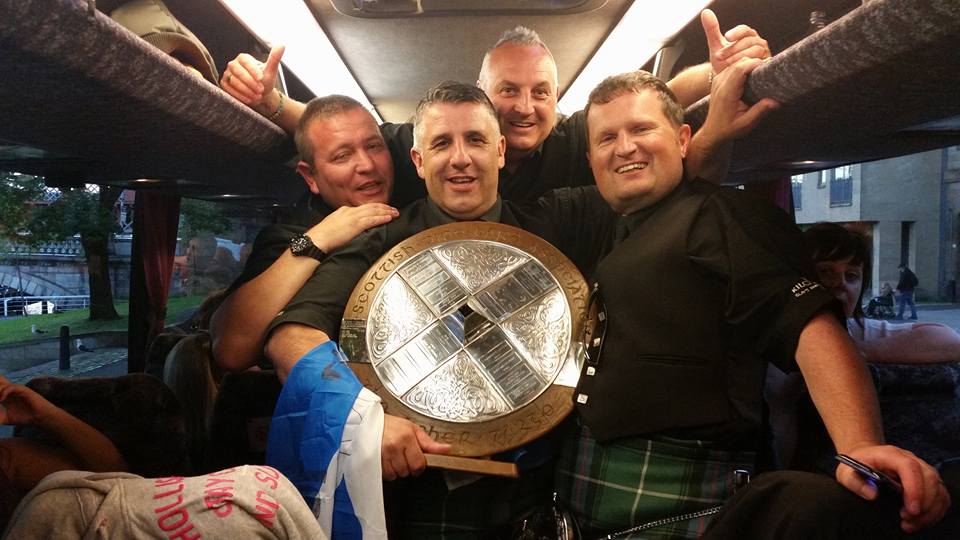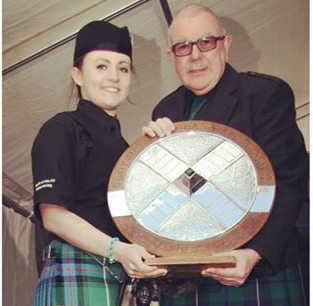 JUNE 13th
ISLAY PIPE BAND ARE GRADE 3A UK CHAMPIONS
Islay Pipe Band have continued their fantastic run at Belfast this weekend by winning the UK Championship title in Grade 3A....Once again, a massive well done to everyone ...all your hard work is paying off!!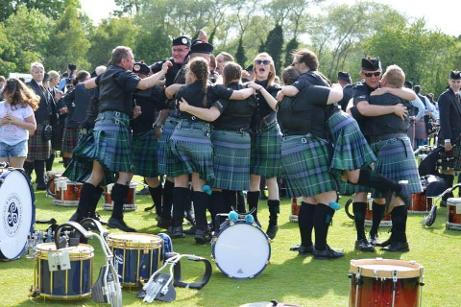 JUNE 9th
BAND ROUND -UP BY ANDREW McEACHERN

The band has been pretty busy over the past few months: On the 16th May we competed at the Gourock Highland Games and came first in Grade 3 and second in Grade 2. Thanks very much to Caledonian MacBrayne for stalling their sailing as we were a wee bit late for the ferry! During the whisky festival week the band played at Bruichladdich Open Day, the Islay
Hotel and Kilchoman Distillery before heading to Bathgate to compete in the British Championships. For once it was not raining and the sun shone on Islay Pipe Band as we were declared Grade 3A British Champions 2015! While all the band members were ecstatic, it was a special day for youngsters Catriona MacPhee, Katie McNiven and Kyle Rowan who had never won a major with Islay Pipe Band before. Well done all! This Saturday we are in Belfast where we are competing in the UK Championships; hopefully our good season will continue and we will return home with a prize.
As part of Kilchoman Distillery's sponsorship of the band, there is a special bottling exclusively for Islay Pipe Band on sale at the distillery. This is the 3rd release for the band and there are not many bottles left, so if you would like to purchase one, they are available from Kilchoman Distillery.
Our new CD is now on sale and available at several outlets on Islay: Bowmore Post Office, Islay Hotel, Bruichladdich and Kilchoman Distilleries and Bruichladdich Mini Market at a cost of £10.
The competition to name the CD was won by Emma McNeill, Primary 7, Port Ellen Primary, Her winning title 'Fuaim Na Pioba'( Sound of the Pipes) is now emblazoned on the CD cover and a £25 voucher is on its way to her. Well done Emma!
MAY 2015
May 31st
The big news from the British Championships this weekend in Bathgate is that Islay Pipe Band have been crowned Grade 3A British Champions!!!!

WELL DONE TO EVERYONE!!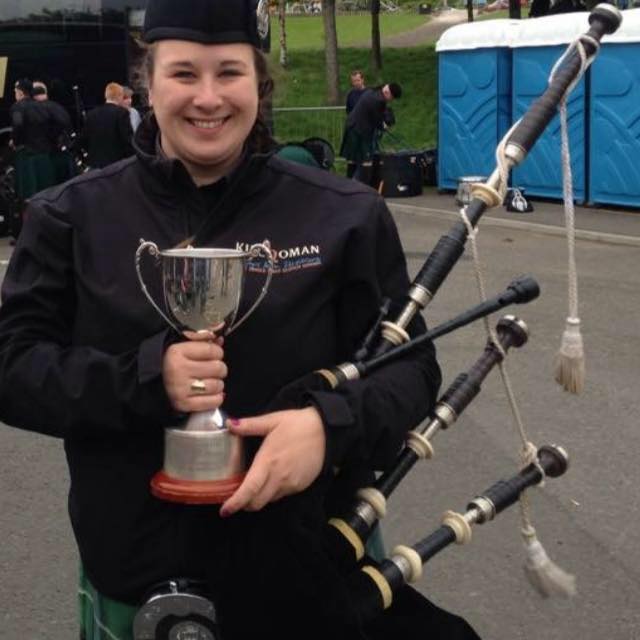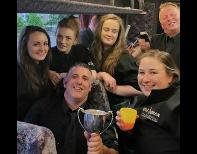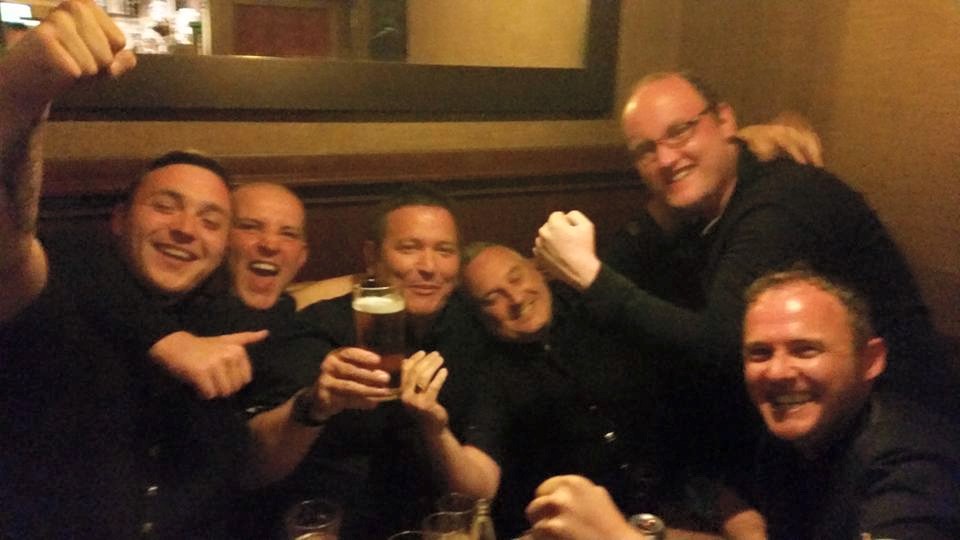 GOUROCK HIGHLAND GAMES
The competition season got off to a flying start on Sunday 10th May when the band secured First Place in Grade 3 and Second Place in Grade 2 at a very wet and windy Gourock Highland Games. Well done and congratulations also to Katie McNiven who made her competition debut with the band at Gourock.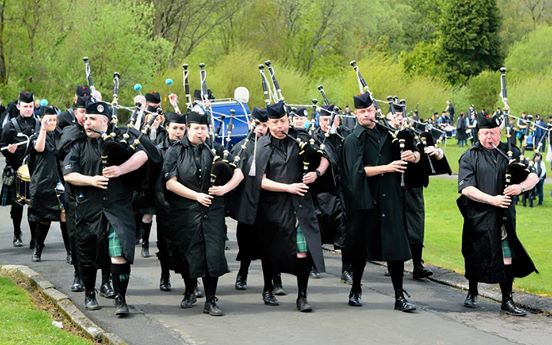 SPECIAL PIPE BAND BOTTLING BY KILCHOMAN DISTILLERY
Kilchoman distillery in their sponsorship of Islay Pipe Band will do their 3rd exclusive bottling for the pipe band on the 15th of May. It will be for sale at distillery- cash or cheque for £75- it is 5 yo bourbon finished in PX sherry cask for 2 months- mmmm lovely I know as John MacLellan and I had wee sample! It is bottled on 15th but won't be on sale until Monday 18th- there will be approx 250 bottles- the Band once again thanks Kilchoman Distillery for their magnificent support

FOR MORE INFO:

WWW.KILCHOMANDISTILLERY.COM
DECEMBER 2014
MERRY CHRISTMAS AND A VERY HAPPY NEW YEAR TO YOU ALL!!
Islay Pipe Band were delighted to hear that Anthony and Cathy Wills of Kilchoman Distillery have agreed to sponsor the pipe band for a further three years. On behalf of the whole band, Andrew McEachern said he "would like to thank them for their continued support. Not only now, but from day one, Kilchoman have always contributed to the band in one way or another.." Andrew also wished to convey his thanks to the Kilmeny Ceilidh Club who had also contributed to band funds. He said his thanks were just a little late due to Pipe Major Nigel mislaying the cheque!!

Over the past few months, the band has been busy recording a new CD at Headhunter Records in Glasgow . Andy from the Isle of Arran is currently busy mixing the album and hopefully the CD will be a good listen and a great success. It should be available by Easter and will retail at £10. It consists of 12 tracks with the pipe band accompanied on several by Simon Moran on fiddle, the Rowan Brothers on accordian and keyboard and Alastair Currie on vocals.

Some other news.....Pipe Major Nigel Morris is now teaching Piping in the islands' primary schools and Islay High School having taken over the post vacated by James Carmichael. "I am sure Nigel will continue to add to all the good work James has done over the past few years" says Andrew "Already the band is seeing new talent at the weekly band practices and I'm sure he will work hard to enhance piping on the island" and added " and if the kids get ever get tired of practicing, Nigel can always show them some of his famous magic tricks!!

Finally the band is busy preparing for next years competition season and working hard on their new Medley and March, Strathspey and Reel arrangements. It will be that time again before we know it!
JULY 2014
The season so far....an update from Andrew Mceachern
Islay Pipe Band has competed at three competitions this season so far. Our first competition was the British Championships at Bathgate where we put in a really good performance and got sixth place. We were delighted we got a prize but were bit disappointed not to be placed higher. Two weeks later we headed for Belfast to play in the UK Championships; this competition replaces the Cowal Championship which now has 'minor' status. We have been very fortunate in the last six or seven years not to have had too many 'bad days at the office', but this was one of them.....we ended up fifteenth and have no arguments on that score as we made mistakes and errors which were very unlike us. It was a long road home from this one!

At the end of June we travelled up to Forres for the European Championships. We played well and came fourth but there's still a lot of room for improvement. The Forres competition is a great day out and it was good to meet some fellow Ileachs; Bill and Irene Robertson who used to run the Abbotsfort Hotel in Bruichladdich, George and Irene Ingram, Shona and Donald Anderson, Margaret Macindeor and family among others.

This season Kyle Rowan aged 12 is playing with the band....Kyle is the son of Mairi Stewart from Bowmore and Alasdair Currie also made his debut at Forres. It's really great to see young pipers coming into the band and very good ones at that! Sandy Maclellan who is now Dr Maclellan also played at Forres. Despite having lots of studying for his chosen career, Sandy has kept the pipes going which is not always easy so credit to him for doing so. Nicola Hammond and Linsay Macarthur have also returned home to Islay to further their teaching careers which is another big plus for the band. Our next competition is the Scottish Championships at Dumbarton at the end of July. Of all the grades in the competitions we are last on to play at approx 4.45pm, so if you are nearby please come along and give us some support!

So there's plenty to keep us going over the next few months and the band will be making another CD at the beginning of October and we hope this will be as sucessful as our first CD as I'm sure it will...


EUROPEAN CHAMPIONSHIPS
FORRES 2014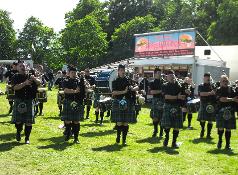 After finishing in 16th place at the UK Championships in Belfast, the band were delighted to win overall 4th place at the European Championships at Forres last month, with the drum corps finishing 3rd . Given the quality of the competition in Grade 3A this year, the result has more than made up for last months disappointment and the band hope they can build on this success when they head for the Scotish Championships on the 26th July...

.

May 26th - SPECIAL FUNDRAISING WHISKY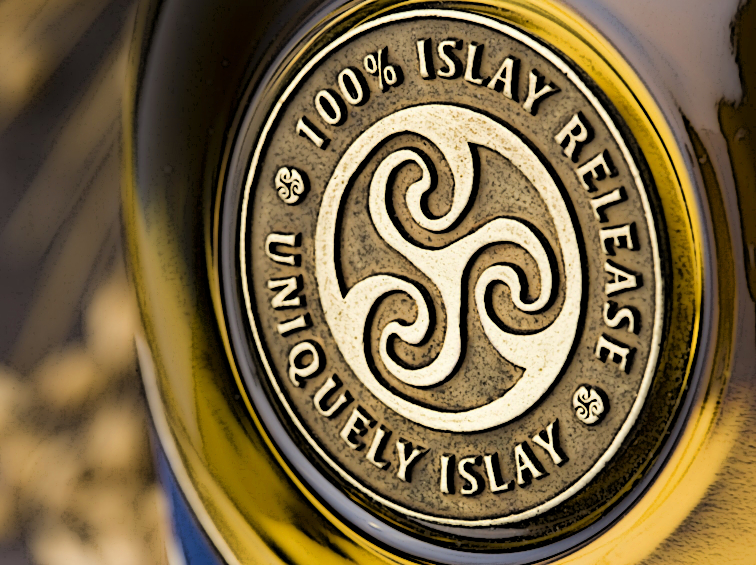 To help raise funds for the pipe band, our sponsors Kilchoman Distillery have bottled an octave cask and the 126 bottles produced from it, will be on sale at the distillery.
The bottles are priced at £75 and payment is by cash or cheque.
Contact Kilchoman Distillery for more details....
BAND UPDATE: COMPETITION SEASON BEGINS...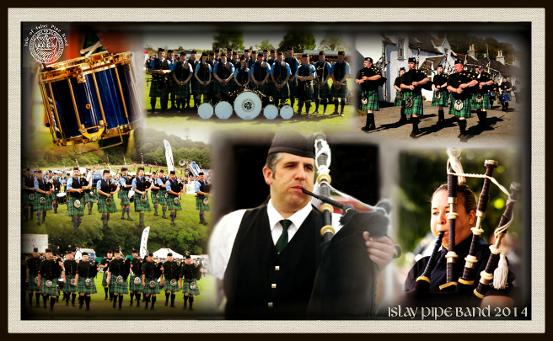 You'd be forgiven for thinking that Islay Pipe Band have been in hibernation since last September's appearance at the Jura Music Festival, but it couldn't be further from the truth...
The band reconvened after only a four week hiatus and have been working hard on new arrangements and tunes for the coming season ever since.
Now with exactly a month to go until the British Championships at Bathgate, the hard work is paying off and although happy with how things are progressing, we realise much more hard graft is needed to keep the momentum going. We are always very aware and grateful for any support we receive, financial or otherwise and to all those individuals and organisations, we would like to express our heartfelt thanks.
We will try to keep you all up to date with the bands fortunes over the coming months and once again thank you for your continued support - it's very much appreciated!
WORLD CHAMPIONSHIPS & COWAL
At the World Championships on the 18th August, the band finished 8th in a very tough qualifier group and were very disappointed not to make through to the final. Congratulations once again to Coalburn for winning the Grade 3a title!

However the bad luck didn't end there......At Cowal, the band knew before they even played, that some 'technical' circumstances outwith their control might mean them being marked down by default, so in the end they were not too despondent at finishing in 11th place. The band had played very well regardless and it was an enjoyable end to the competition season and one of the best run Cowal Championships in recent years..... a touch ironic due to it being the last year with Championship status.....
JULY 2013
SCOTTISH CHAMPIONSHIPS - 27TH JULY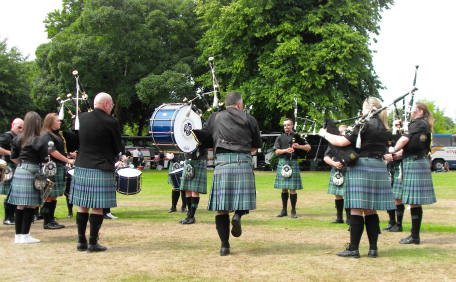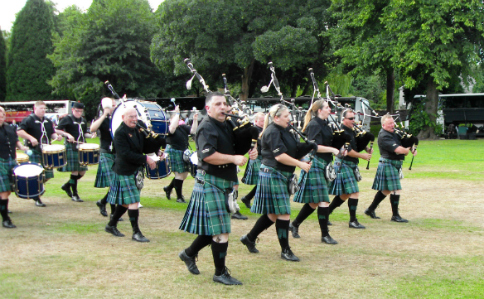 At the recent Scottish Championships the band finished in 9th place. The standard of the grade this year has been quite exceptional and congratulations to Coalburn Pipe Band on their thoroughly deserved win. Even so it's still a disappointment to finish so far down the ranks, so with less than two weeks until the World Championships in Glasgow, it's noses to the grindstone and hopefully Islay Pipe Band can get it's 'Mojo' back!!!

NB. The Worlds are being held over two days this year, so for anyone planning to come along to support us, we're competing on the Sunday (18th). The qualifying heats for Grade 3A begin at midday with Islay Pipe Band on at 1.04pm.

EUROPEAN CHAMPIONSHIPS - 29TH JUNE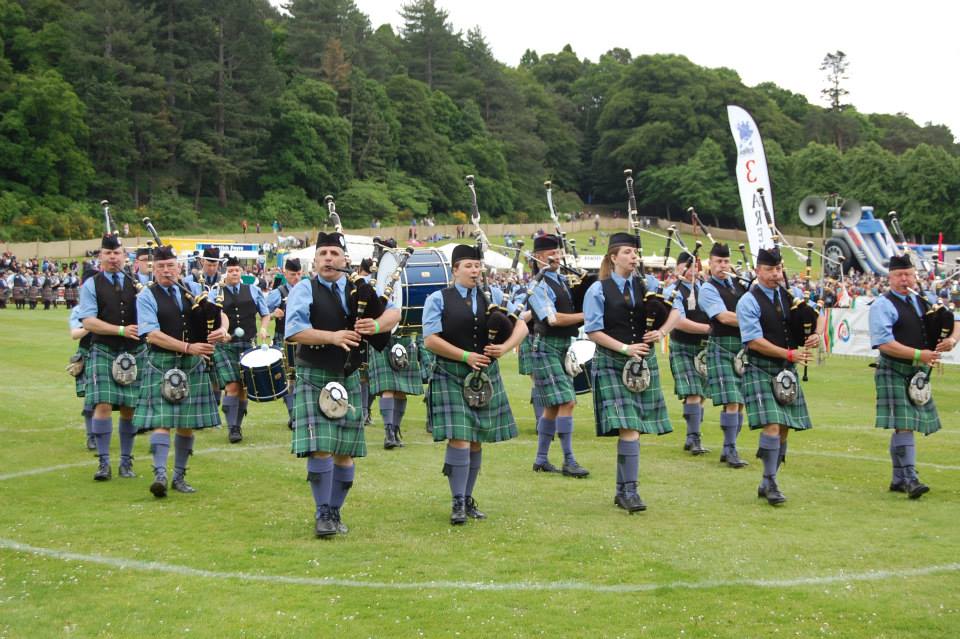 The long haul from Islay to Inverness via Edinburgh was made worth it after the band secured a 4th place at Forres. Grant Park in Forres was a fantastic venue and the decent weather and good result all added to a great weekend.


KILCHOMAN SINGLE MALT WHISKY - A VERY SPECIAL EDITION!
Band funds will soon be receiving a huge boost thanks to the incredible generosity of our sponsors Kilchoman Distillery. A unique 'Islay Pipe Band' bottling from a cask specially chosen by Manager (& band stalwart) John MacLellan and our very own Andrew McEachern, will go on sale from 20th May until 1st June at a cost of £75 per bottle.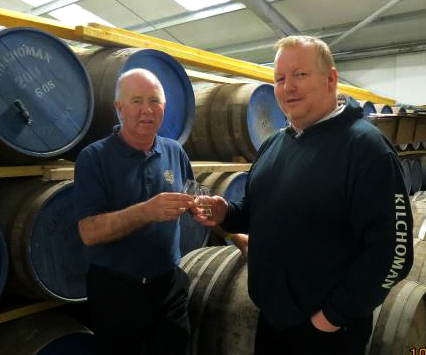 More information on purchasing this highly collectable special edition can be found on the Kilchoman Distillery website.
It's competition time again and Islay Pipe Band's first test of 2013 will be at the West Lothian Highland Games, Bathgate on Saturday 18th May. The band should gain invaluable experience by competing at this minor competition as it acts as a timely run-in for the British Championships which take place the following weekend at the same location. Please come along and support the band if you're in the Bathgate area on either weekend and remember, you can keep up to date with all the news here and on our facebook page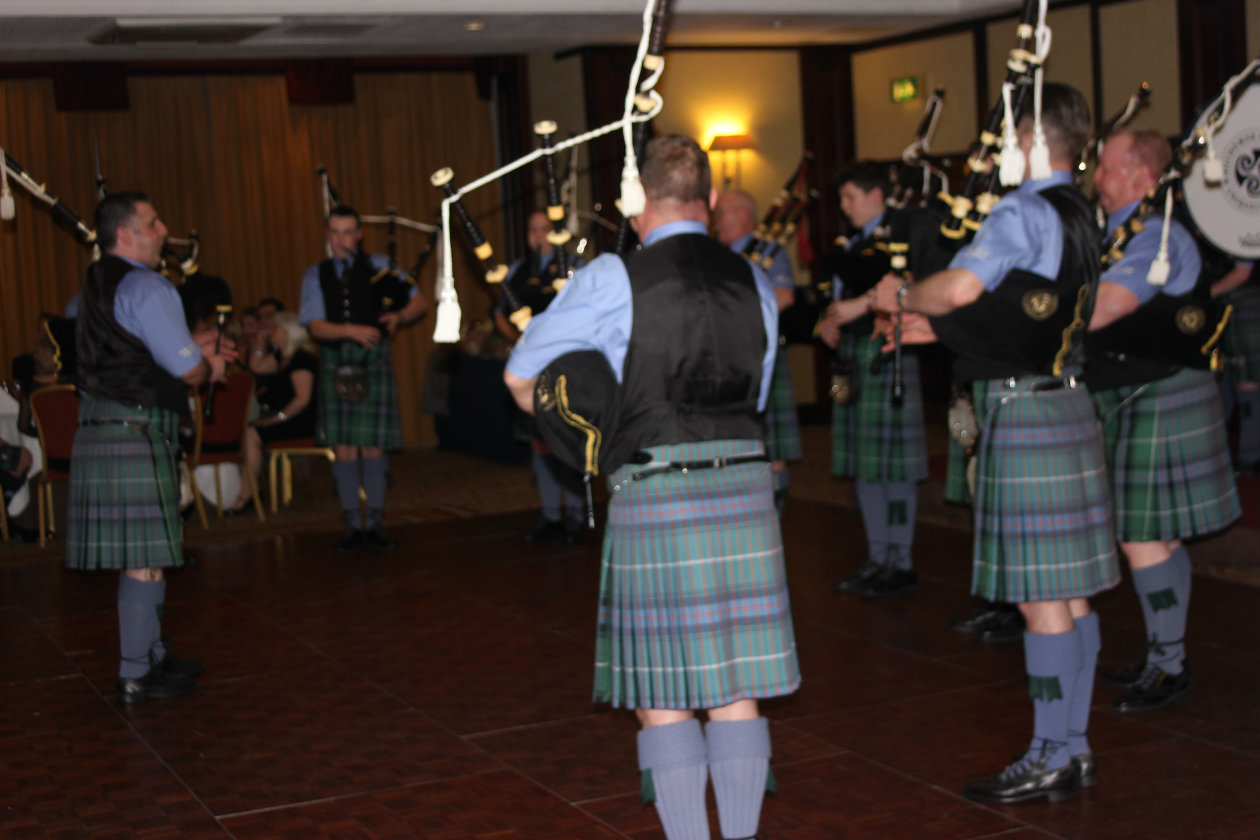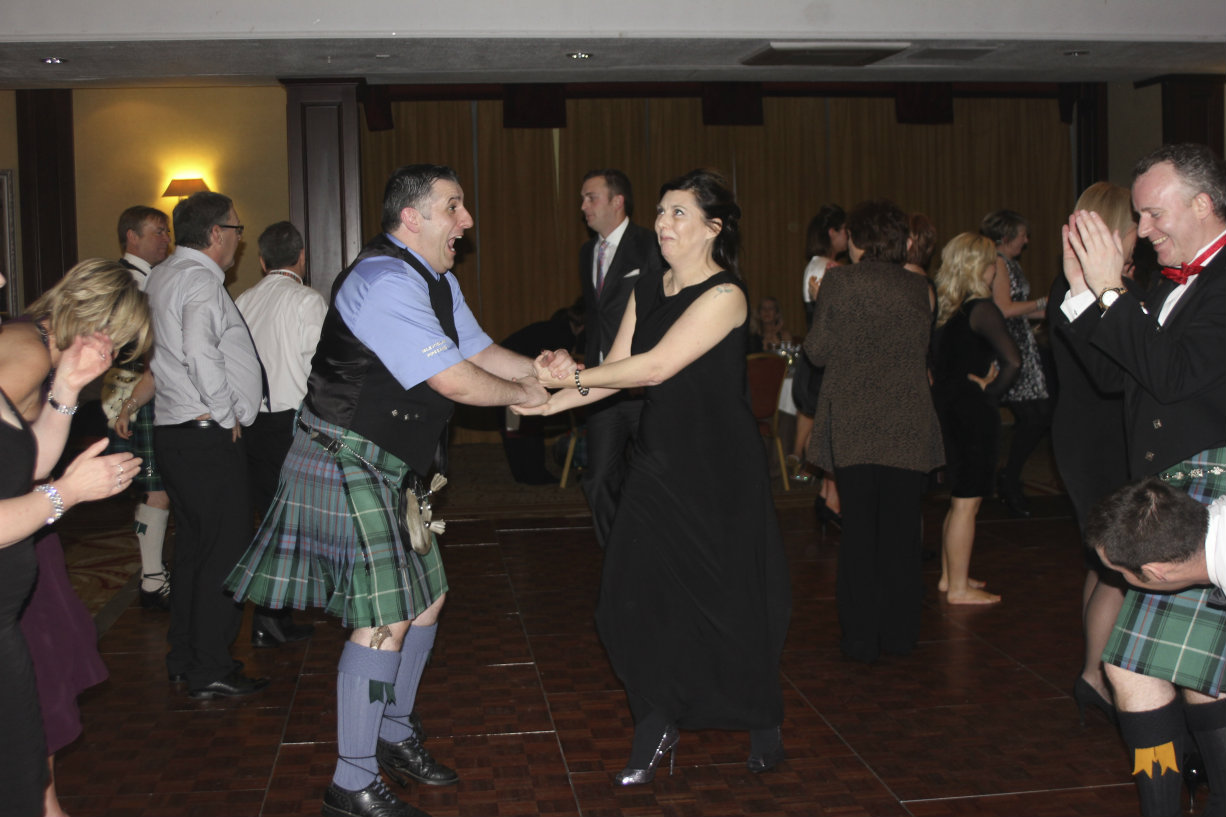 The recent fundraising dinner dance held at the Grosvener Hilton in Glasgow was a fantastic success and every one had a great night. The sum of £8,400 was realised; a truly magnificent effort!
First of all, we would like to thank everyone who donated prizes for the auction, silent auction and raffle, from the distilleries, hotels and many more from Islay, Jura and the mainland. Thanks also to John Carmichael and John Maclellan for hosting the evening and to Deoch 'n' Dorus for the music, confirming why they were chosen as Scottish Dance Band of the Year - the floor was always full. Thanks to all who bought tickets and a special thank you to everyone who dug deep at the auction.
Also thanks to the Grosvener Hilton for their hospitality and service, which was second to none - this was the first fundraiser for the band of this sort, but was a very successful one. Finally, last but certainly not least, a huge thank you to Catherine Johnston and Sheena Macmillan who organised the event. They put in a huge amount of time and effort and we salute you!! Thanks also to their daughters Catriona and Emma who helped on the night.



FUNDRAISING EVENING

Islay Pipe Band is holding a fundraising dinner dance in the Hilton Glasgow Grosvener Hotel on Saturday 9th February 2013.
Catherine Johnston who organised a hugely successful night at the same venue for the Gaelic College, has offered to do the same for the pipe band. She is being ably assisted by Sheena MacMillan and all connected with the band.
The evening will commence with a pre-dinner drinks reception at 7pm, followed by a three course meal including wine at 7.30pm. John Carmichael and John MacLellan will host the evening with music from Islay Pipe Band and Deoch 'n' Dorus, who will be playing for the dance.
During the course of the evening there will also be an auction/raffle to help bolster funds. A table of ten costs £500 but individual tickets can be purchased at £50 each. If you would like to book a table or order tickets, please phone Sheena on 01496 860279 or email: sheena_macmillan@hotmail.co.uk

There will also be a bus meeting the ferry at Kennacraig at 12 midday on Friday 8th February to pick up band members. There will be spaces on the bus, so phone Andrew 850271 if you would like transport at a reasonable rate. Banish those winter blues and make a weekend of it, leave the car at home and come and have a ball!!
We hope you can come along and support the band...




COWAL CHAMPIONSHIPS:

After disappointment at the Worlds, Islay Pipe Band have ended the season on a high note, finishing in second place behind their good friends Coalburn IOR Pipe Band. Congratulations to them!!

A full report from Andrew on the World Championships and Cowal will be coming soon and in the meantime the band are taking a well deserved short break before the preparations for next year's season begin in earnest!


THE WORLD CHAMPIONSHIPS: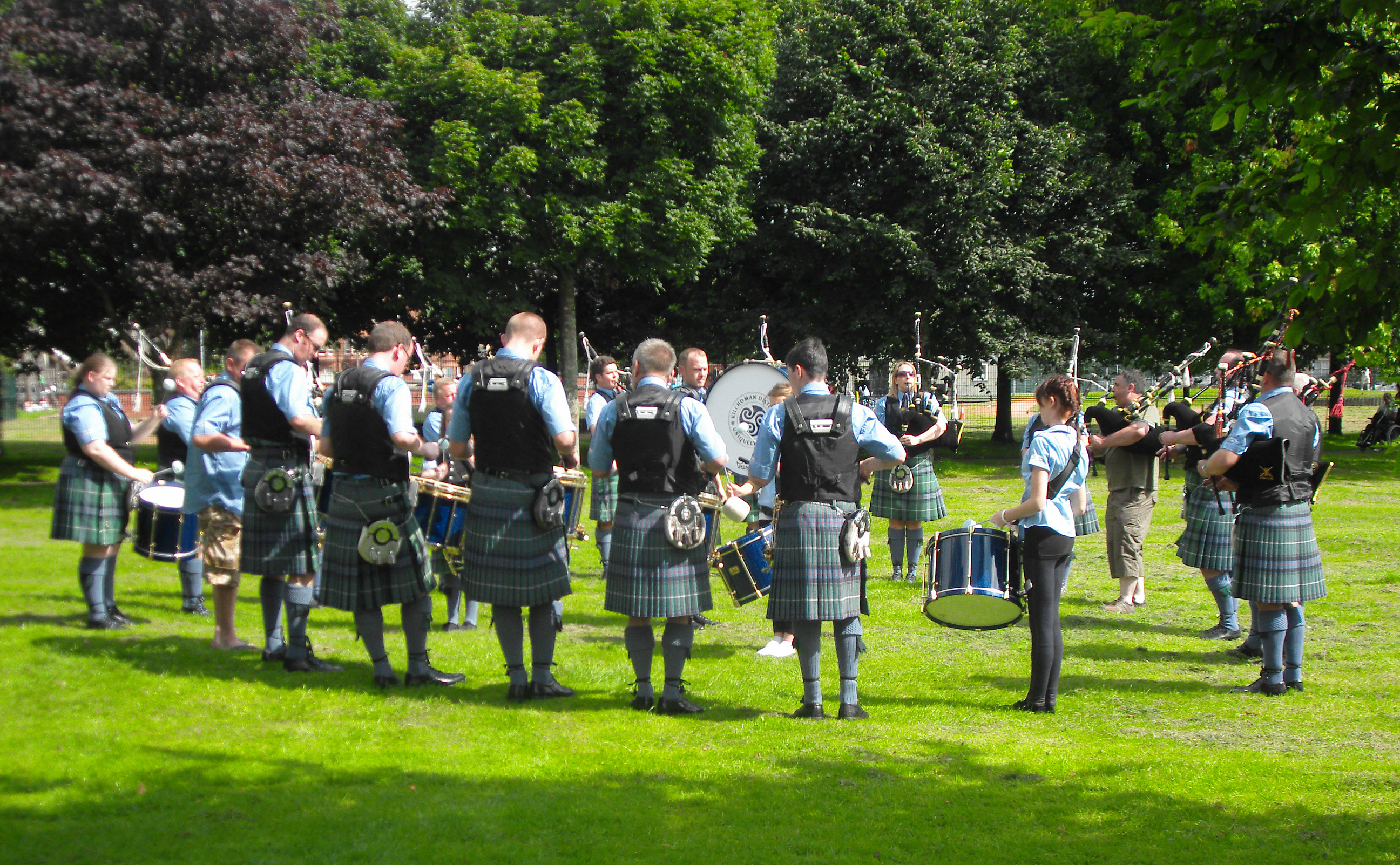 The band have just returned from the World Championships in Glasgow where despite playing well, unfortunately didn't make it onto the prize list, finishing in 9th place. Despite the disappointment, it was a great day and Glasgow Green was sparkling in the sunshine. The band will know focus all their attention on putting in a good performance at the last competiton of the season which is the Cowal Championships on 25th August.
You can watch a video from the Worlds HERE
.
A ROUND-UP OF RECENT ACTIVITIES


On the 30th June, the band competed at the British Championships at Annan. We put in a reasonably good performance and were very pleased to make the prize list again with 6th place. This was followed on Saturday 29th July with the European Championships which were held in the grounds of Stormont Castle in Belfast. It is an amazing venue for a championship and the sun shone on us throughout the day. We put in a strong performance and the whole band were delighted when our hard work was rewarded with a 2nd place, finishing behind the 'Police Service of Northern Ireland' - a very good band who have won all three major competitions this season.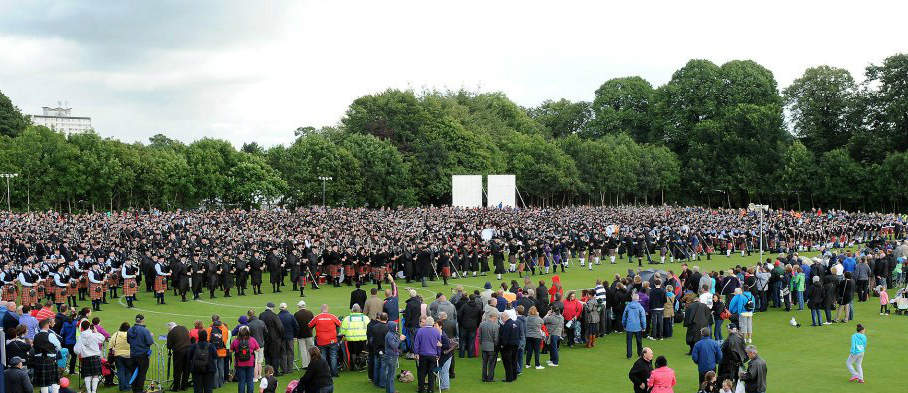 European Championships - Belfast

On the home front, we have had a very busy summer with performances during the Islay Festival week, The Festival of the Sea, Port Ellen Sports Day, a birthday bash and of course the Islay Show, as well as individual band members being in demand for piping at weddings etc. Coupled with running fundraising bars at local events* and two band practices per week, we've just about managed to fit in the day job and can never be accused of being lazy or bored!!!

THE WORLDS: This Saturday Islay Pipe Band will be competing at the World Championships at Glasgow Green. This is the premier event in the pipe band calendar and it provides a fitting climax to the week long 'Piping Live' event in Glasgow.
The band will be playing our March, Strathspey and Reel set at 4.07pm in the Grade 3A final. The competition this year will be very closely fought, with some excellent bands from America and Canada adding to the mix. It will be very difficult task, but we can only give it our very best and hopefully make it onto the prize list. Please come along if you're in the Glasgow area and give us some support!!

* FUNDRAISING BINGO AT PORTNAHAVEN HALL.
We'd like to say a huge thank you to Sheena and the ladies of the Rhinns for all the baking; to all those who contributed raffle prizes and to the ladies in the kitchen for the teas. It is much appreciated!

BRITISH CHAMPIONSHIPS - 30TH JUNE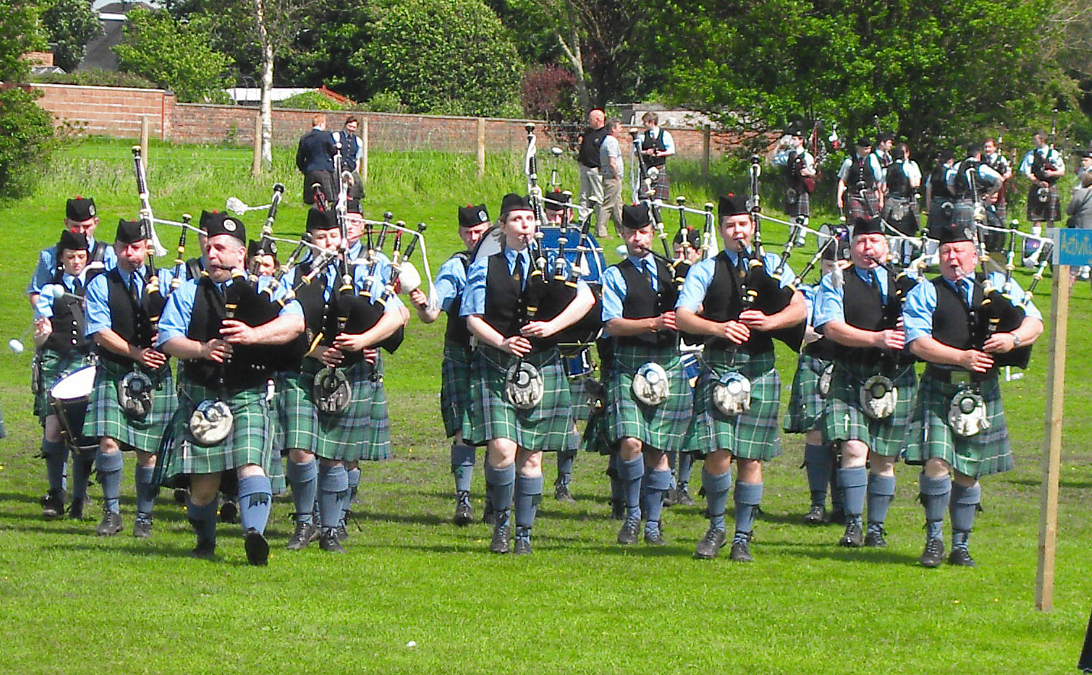 The band have just arrived back home from the British Championships where they gained another shield after finishing in 6th place against some very stiff competition. Well done everyone for putting Islay on the prize list yet again!! *CLICK HERE TO VIEW OUR 2012 PHOTO GALLERY
SCOTTISH CHAMPIONSHIPS - 19th MAY 2012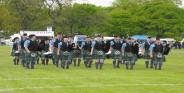 On Saturday 19th May, the band headed to Dumbarton to compete at the Scottish Championships. This was our first competition of the season and another youngster from our ranks made her debut there. Tenor drummer Catriona McPhee is only 11 and showed no sign of nerves competing in her first major championship......she thought the band was still tuning up, until she noticed one of the judges walking around with his clipboard taking notes!!
The day itself was dry but very cold and there was a lot of moisture in the air. We were last on to play at 4.50pm and put in a good solid performance which resulted in us being placed 5th and awarded a nice shield for our efforts. We haven't been placed at the Scottish Championships in the previous two years, so it was very nice to leave Dumbarton with some silverware!
Our next competition is the British Championships in Annan this coming Saturday, the 30th June. This time we will be playing our new MSR set ('John MacDonald of Glencoe', 'Dora MacLeod' and 'The Smith of Chillechassie') all of which are tunes Grade 1 bands use to compete with, therefore a lot of hard work has gone into learning them over the winter months. So wish us well on Saturday and if you're in the area, please do come along and give us your support!!!
DECEMBER 2011
'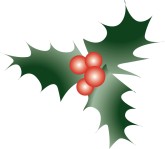 'Tis the season to be jolly'........
The festive season has got off to a fantastic start with some very welcome news:
Islay Pipe Band are delighted to announce that we have secured new sponsorship for the next 3 years. Kilchoman Distillery have kindly stepped in to help support the band just as it was looking as if we would enter 2012 with no sponsor. The bands first major gig under Kilchoman will be in March, at the Mitchell Theatre, Glasgow for the 150th Centenary Islay Gathering. With so many famous Islay pipers coming from between Conisby and Ardnave, an area which stretches right across Kilchoman, perhaps it is fitting that 'Kilchoman' will be the new name on the Islay Pipe Band bass drum. The band would like to thank Anthony and Kathy Wills at Kilchoman Distillery for their support, not only now but also in the past, when we received a very generous donation from them following the auction of the very first bottle of Kilchoman.
Having had no major sponsor in 2011, finances were tight, so securing this sponsorship with Kilchoman will ensure that Islay Pipe Band will compete at all the major championships next season. Hopefully Kilchoman's manager John MacLellan, who's son Sandy is a major player in the band, will come along to some of these majors and promote the Kilchoman brand. John has always been a great supporter of the band, whether it be chairing band concerts, selling raffle tickets at the Islay Show or helping at other fundraising efforts on the bands behalf. We all look forward to a fruitful partnership in the years ahead.
And so we end 2011 on a positive note .....it's been an eventful year which seen us crowned Grade 3A European Champions and now thanks to Kilchoman, we can look forward to the coming year and the challenges it will no doubt bring. We would like to thank everyone who has supported us along the way and take this opportunity to wish you all a very Merry Christmas and a Happy New Year!!

SEPTEMBER 2011
After going through the 2011 season with no official sponsorship, Islay Pipe Band are seeking a new sponsor for 2012. The Mactaggart Third Fund and the Schroder Foundation continue to support the band in a big way and we are eternally grateful to them for their extra financial support following the loss of our previous sponsor. However although their support originally compensated for the blow, this could not go on indefinately. Therefore if there is anyone out there who would like to realise the huge advertising potential generated by the high profile of the band both in Britain and abroad, please phone Andrew on 01496 850271 or email him: am245@btinternet.com

OTHER NEWS:
While the band had a very successful season in 2011,winning the Grade 3A European Championship in Ireland, we will be remaining in Grade 3A next year.
Good luck and best wishes to Oban Pipe Band who have been promoted to Grade 2.
The band are now busy learning a new 'march, strathspey and reel' for next season, so after a two week break, it's time to knuckle down and get back to work!

On Saturday 22nd October our lead drummer Sandy Maclean competed at the World Solo Drumming Championships in Glasgow. Even though an uncharacteristic attack of nerves resulted in him not playing as well as he knows he can, Sandy really enjoyed his first attempt at solo drumming. He finished in joint last place in his group, which is no disgrace given that, bar one, all the other competitors in his qualifier were Grade 1 drummers from such prestigious bands as Simon Fraser University, Shotts and Dykehead and St Laurence O'Toole! Despite feeling like a minnow among sharks, Sandy felt he gained valuable experience and inspiration from the day and plans to give the solos another 'bash' next year.

Sandy would like to thank pipers Rab and Davie from the Glasgow Skye Pipe Band for accompanying him at the competition - it was much appreciated!)

*CLICK HERE TO WATCH SANDY AT THE WORLD SOLO DRUMMING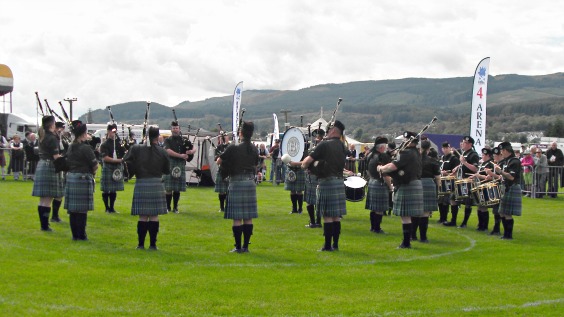 The band travelled to the Cowal Games on Saturday 27th August to compete in their last competition of the season. We were to play our March, Strathspey and Reel this time and the band performed well, ending up fifth overall and finishing 3rd in the Champion of Championships table. The piping marks were disappointing and our poorest of the year with a 7th and 8th but the drumming finshed 5th and ensemble 3rd. So well done to the drummers, you got us on the prizelist!
The band stayed on in Glasgow for an extra day, holding an end of season shindig, to pat ourselves on the back for a good season's work. Held in the Islay Inn, it just happened to coincide with the Pipe Major's 40th birthday! The band would like to thank Willy and the staff at the Islay Inn for donating the lovely spread of food and would also once again like to thank Kilchoman Distillery, Iain Laurie and Rhinns Electrical for helping finance the Cowal trip.

Thanks also to Kilmeny Ceilidh Club for their recent donation. Moran taing!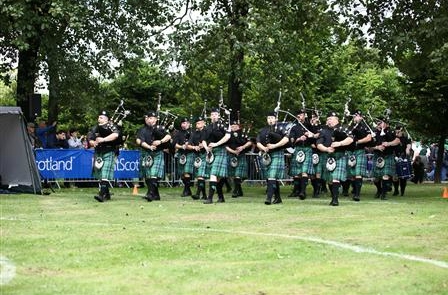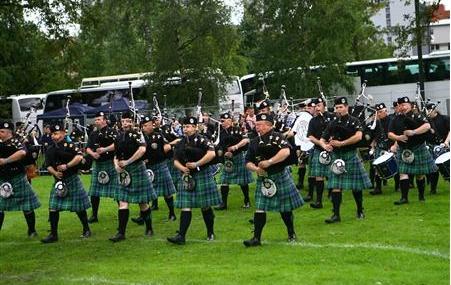 The band travelled to compete at the World Championships at Glasgow Green on Saturday the 13th of August, and despite a dodgy forecast, it turned into a beautiful day. We played at 12.30pm in the qualifying rounds and though we felt we didn't perform as well as we know we can, we made it through to the final in 4th place. (The top 6 from the two qualifying rounds are put through, making it a final of 12 bands) We went on at 4pm in the final and after playing really well, were hopeful of being amongst the prizewinners. After the marchpast, came the prize giving and we were awarded 4th place. We got top piping marks in the final, a 1st and a 2nd, and so in effect, we are the Grade 3A World Champion Pipe Corps! The other marks were 5th for ensemble and 1oth for drumming. It was a disappointing result for the drum corps who felt the placing didn't reflect their performance on the day. They thought they had improved on their Europeans performance in Ireland where they won 1st place!
Saturday, 20th August sees us head to the Cowal Games for our last competition of the season. It's the 'March, Strathspey and Reel' this time, which we last played way back in May at the Scottish Championships in Dumbarton. We finished 8th then, so we know we will need to work really hard if we're to get in the prizes this time...
A huge thank you to Kilchoman Distillery who are sponsoring the bus to Cowal and to Iain Laurie for his generous donation to help cover accomodation costs on this trip. The whole band are very grateful for you support!!
THE EUROPEAN CHAMPIONSHIPS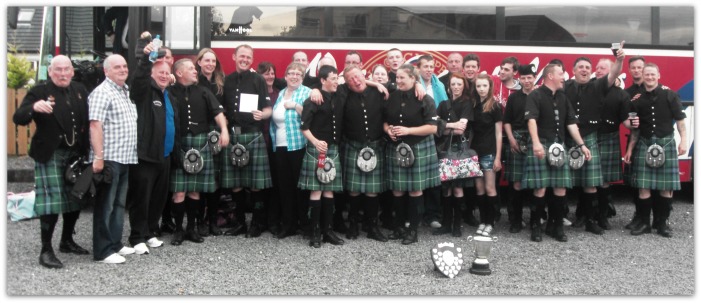 On the 28th July, the pipe band left Islay to compete at the European Championships in Belfast. After a practice that evening in Glasgow, we caught the Seacat from Troon at 10am the following morning. We had a good practice in the late afternoon, then retired for dinner and a good nights sleep. We were up early for a hearty Irish breakfast before heading to Belfast, which was about an hours drive from our accomodation. While we were practising, Robert and Co put u
p the gazebo so our followers could sit and enjoy the rare sunshine! We were on second last at 12.40pm and we put in a strong performance. It was definately our best of the season and the Pipe Major was happy. For the rest of the afternoon we listened to other bands and enjoyed a few refreshments with our friends from Campbeltown and Inveraray who had their gazebo pitched right beside ours.
The March Past and results were about 6pm and Islay Pipe Band were declared European Champions!!!! 1st in drumming, 2nd in ensemble and 2nd and 3rd for piping. I have never seen the band celebrate in such style - it
was truly

a

mazing and some of the band were in tears. Young Hannah Campbell has now made her way into the full band to join her pal Ciara and they took everything in their stride, as if we win majors every week!!!! (hehe, just kidding girls!

)
The journey back to our digs seemed to last 5 minutes this time and we all enjoyed a great night. Thanks again to our hosts at the Gilgood Lodge for their hospitality and for the celebratory drinks which were waiting for us on our triumphant return. (thanks to Simon Moran also) We headed back to Scotland the following day and arrived back in Glasgow at 9pm. After what was a long and costly trip, we finally arrived home on Islay at
3pm on Monday afer
noon and were welcomed on the pier with a banner which read

"ISLAY PIPE BAND: EUROPEAN CHAMPIONS!"

Thanks guys and gals, it was much appreciated.
We now head for the World Championships on Saturday 13th August and hope to do well. Because of the amount of bands in our grade, we will have to qualify for the final, so we know we have a lot of work to do.....

LOCH LOMOND HIGHLAND GAMES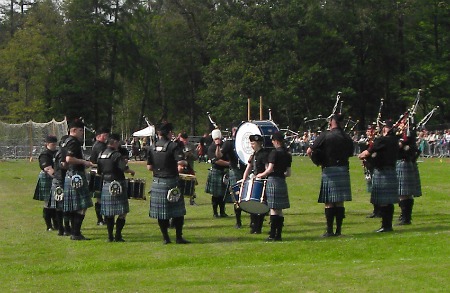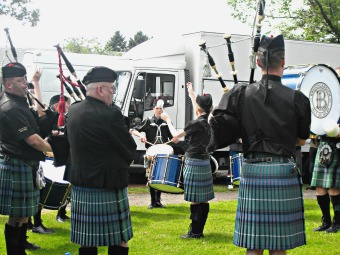 Islay Pipe Band travelled to Balloch on Saturday the 16th of July to compete in the Loch Lomond Highland Games. Despite a dodgy forecast, it turned into a lovely day. There weren't as many bands there as we'd hoped but it was still a good day out. Islay won grade 3 piping and drumming, and got 2nd place in grade 2. (It was a minor contest, so we were allowed to play in grade 2). We also played for the drum majors and down the street at the end, where we won £100 for 'most entertaining band in parade'. We came home with 3 lovely trophies and were well pleased. Next stop is Belfast on the 30th of July for the European Championships. We did not do well across the water last year, so we are hoping to get in the top 6 this time, though it won't be easy as there are a lot of good bands in grade 3A.......but we will do our best.

JUNE 2011: BRITISH CHAMPIONSHIPS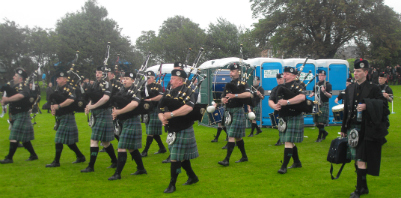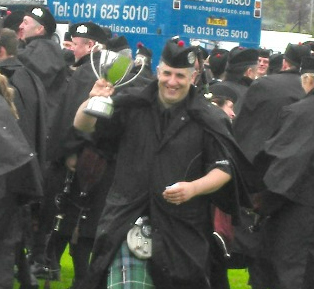 Islay Pipe Band has just arrived back from the British Championships at Annan. After putting on a sterling performance, the band were rewarded with a much deserved 3rd place and collected their first silverware of the season. Congratulations to everyone!!




Here's Andrew's report on the day's proceedings:



Islay Pipe Band travelled to Annan on the 25th of June to compete in the British Championships. It was a dull day but for once it wasn't raining and although the bus park was too soft for traffic, we still got parked close to the arena - all credit to the organisers for making this possible. It was our medley we were playing on Saturday and the whole band put in a good performance. We had quite a few supporters along with us: Duncan and Linda Currie, Catherine Johnston and Karl Savage to name but a few, adding to our numbers. Young Ciara MacMillan has made her way into the band and now plays in our bass section showing a maturity way beyond her years. Well done Ciara.

When the results came out the band were placed 3rd overall, so well done to all the troops! It was a happy bus which headed back to Glasgow, with a few heroes getting off as it drew near the Islay Inn! Well done guys for all your hard work - you deserved your party!!

THE SCOTTISH CHAMPIONSHIPS
MAY 2011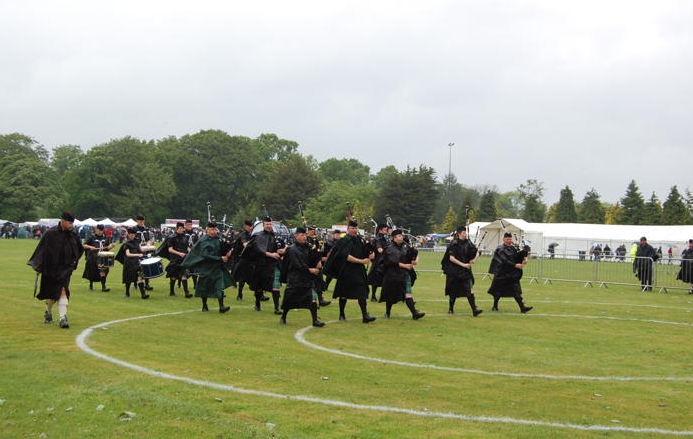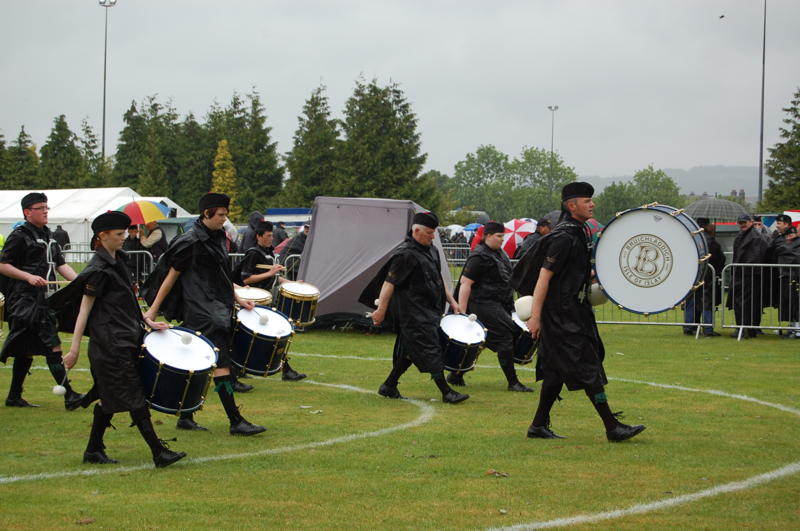 Islay Pipe Band competed at the Scottish Championships in Dumbarton on the 21st May.

The conditions were horrendous with rain and strong winds spoiling the day as a spectacle. This made the Pipe Majors job very challenging and in the end Nigel never played himself as his reed went just as we were about to go on. So we were without our esteemed leader for the first time I can remember and it felt very strange!! We played pretty well and had a very good sound. We ended up 8th and whilst disappointed, we also beat some very good bands. We got a 2nd and a 4th for piping which was encouraging. Oban won our grade, so congratulations to them for taking the championship to Argyll.

Our next big event is the British Championships in Annan on the 25th June.
A big thank you once again to all our sponsors and helpers and to all who help the band to raise funds.
EASTER CONCERT -23rd APRIL 2011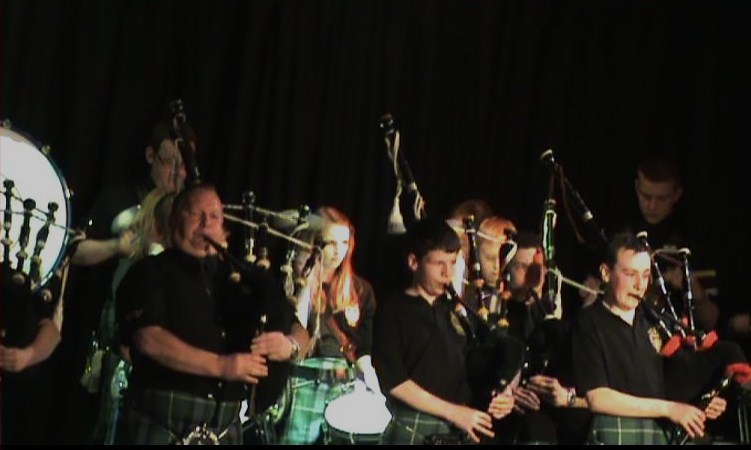 The following report was written by Ileach and Oban Times correspondant Hugh Smith and published in this weeks Oban Times.

"The skirl of the pipes and the beat of the drums were heard loud and clear when the Bruichladdich sponsored Islay Pipe Band played to their hearts' content at a fundraising concert in Bowmore village hall on Saturday.
John MacLellan, manager of Kilchoman Distillery and an avid band supporter, chaired the proceedings with good humour and was fulsome in his encouragement of everyone who participated.
The band along with its junior pipers and drum corps, played a variety of sets and held the attention of the 100 plus supporters present and set feet-a-tapping.
The concert also provided the first public airing of the new pipe tune 'Dr Knowles Welcome to Port Ellen', penned by band member and former Scots Guardman George Johnston in honour of local GP Jean Knowles who was in the audience and strongly approved of the composition.
Junior vocalists entertaining were Alasdair Currie and Ruaraidh MacKinnon. Mod multi-winner Ryan Johnson was in top poetic form and the Ella Edgar dancers representing a variety of age groups, delighted and charmed.
The solo piper, who also accompanied the dancers, was Duncan Beattie who is shortly to leave these shores to join the House of Edgar Shotts and Dykehead Pipe Band.
Led by Pipe Major Nigel Morris and Lead Drummer Sandy MacLean, the band brought the curtain down with 'The Braes of Sutherland' which also featured violinist Mairi MacGillivary and Gillian Morris on keyboard. This proved an effective and fitting finale to an evening of quality piping and pleasing entertainment."

NB: The proceeds from the Concert raised £800 for band funds
.
APRIL 2011
The band are busy practising for the first competition of the season at the Scottish Championships next month. As preparation for this, we are holding a concert in Bowmore Hall on Easter Saturday - 23rd April. As well as the band, other artists will be performing and the concert will mark the debut performance of a brand new pipe tune composed by one of our own pipers.
As 'Leaving Port Askaig' is a well known Islay tune, Dr Knowles felt that there should also be a tune for Port Ellen and she offered a generous donation to the band in return for a suitable tune. One of the band members George Johnston (ex Scots Guards) composed the tune which he has fittingly entitled 'Dr Knowles' Welcome to Port Ellen'.
We hope you can come along and enjoy a great night's entertainment!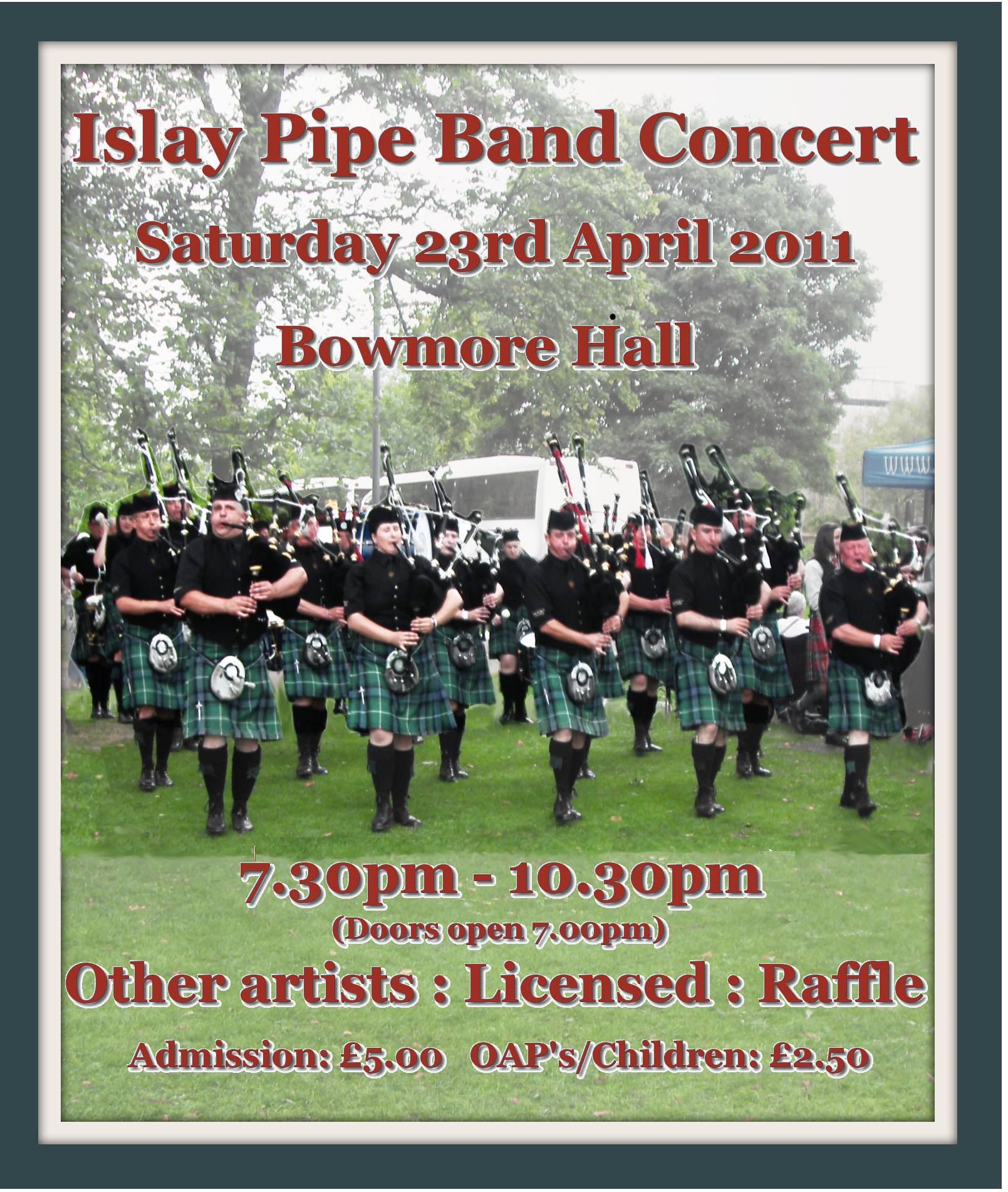 FEBRUARY 2011
Now that the days are stretching and spring is just around the corner, it brings with it a sobering thought: there are only 12 weeks left until the season kicks off with the Scottish Championships at Dumbarton!!! With this in mind, the band are now stepping up a gear in preparation for the competitions and also for a fundraising concert. This will take place here on Islay during the Easter weekend.......so please make a note in your diary and watch this space - more details coming soon!!!

******

NB.

This year sees the loss to the band of two of it's most accomplished players, Ryan Bryce and Duncan Beattie.
Ryan is leaving due to other commitments and Duncan has been given the golden opportunity to play in Grade One
with the legendary Shotts and Dykehead Pipe Band! The band will miss not only their musicianship but also their sense of fun and camaraderie and we would like to wish them both all the very best for the future. Haste ye back!!!!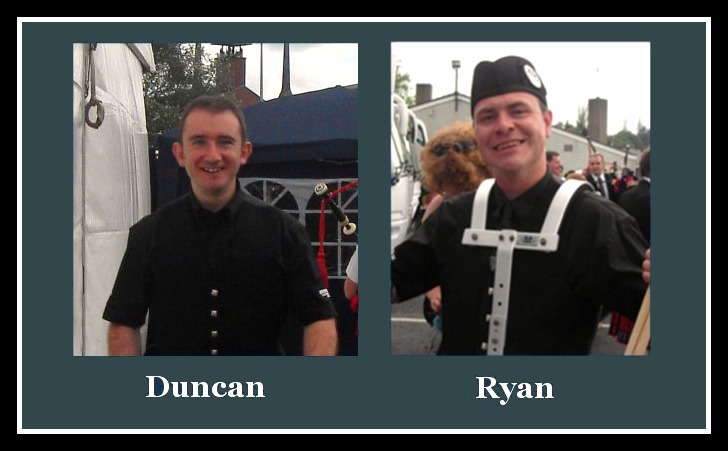 DECEMBER 2010 - SEASONS GREETINGS!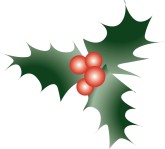 Christmas is nearly upon us and the band is looking forward not only their annual Christmas knees up but also to bringing in the New Year at the Port Charlotte Hotel on Hogmanay. Since the Jura Music Festival they have made a couple of appearances locally, playing at the Bowmore Distillery Open Day in October and the Post Mod Concert last month. Lead tip Sandy Maclean also spent a very fruitful weekend in Glasgow learning to write drum scores and receiving tuition from current World Solo Drumming Champion Barry Wilson. Although things have quietened down considerably since the summer, the band have been keeping busy over the winter learning new tunes for next years competition sets and trying (weather permitting!) to fit in some practices with the mainland players. Suddenly the new season doesn't seem such a long way off.......Merry Christmas!!
SEPTEMBER - THE JURA MUSIC FESTIVAL


The short video above was shot at this years Music Festival - a fantastic weekend of great music and an event which all the band look forward to and enjoy immensely!!

Islay Pipe Band rounded off the 2010 competition season with a fantastic 3rd place at the Cowal Championships. Hearty congratulations to one and all!! Here's Andrew's take on the days proceedings......


On the 28th August, the band competed at the Cowal Games in Dunoon. We were supposed to stay in Dunoon but our hotel went into administration! (The only good news there is that we paid the deposit by credit card, so hopefully we will get our money back one day.) We only received 12 days notice of this, but luckily our friends at the Heritage Hotel in Glasgow managed to put most of us up with a few going into the nearby Botanic Hotel.

On hearing of our predicament, Alisdair Ross phoned the Pipe Major and offered us a free return ferry fare on Western Ferries and a generous donation towards any extra costs for the bus. Thank you very much from all the band to Alisdair and Western Ferries.
We left Glasgow at 6am to catch the 7.45 ferry to Dunoon as we were due to play at 11.18. There were quite a few showers during the morning but it was dry when we went on to play. We had a good run and were quite happy with our performance but then had the long wait until 6pm for the results. However the Ceilidh Tent at Cowal was brilliant, with Gunna Sound, Deoch 'n' dorus and to cap it all, the magnificent Skerryvore all playing. It started to pour down in the afternoon, so we were glad we were on early!
Local boy Robert McEachern was policing all day at Cowal and got a lift back to Glasgow with his Islay compatriots.
We were awarded 3rd place and the whole band was ecstatic with this great result to end our season. We then went on to play down Argyll street in Dunoon and finally arrived back in Glasgow at 11pm.........it's hard work this rock'n'roll lifestyle.....!!
JULY
/

AUGUST

2010
AN UPDATE BY ANDREW ON THE RECENT ACTIVITIES OF THE PIPE BAND:
On the 17th July, we competed at the Balloch Highland Games. We got 1st
Place in Grade 3 and 2nd in Grade 2 which was a superb performance, as we beat two Grade 2 bands to lift the 2nd prize.
On the 31st July, we competed at the European Championships at Stormont in Belfast. We thought we had played quite well, so when we ended up 16th out of 20, it was a bitter pill to swallow. Still, we had a great night out in the town of Moira, near to where we were staying and afterwards back at the hotel. Special thanks to Annette and James at the Gill Good Lodge for their magnificent hospitality!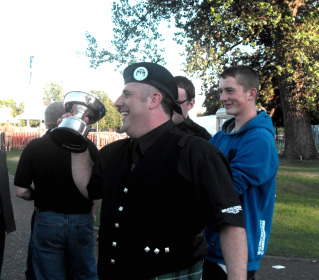 We headed for the World Championships having worked on a few points the judges had raised on our crit sheets. It was a lovely day and Glasgow Green had over 55,000 spectators - we never knew we were so popular!! Seriously, we were on 4.15 pm and we played the best we have all season. We were praying for a top 10 finish, so when the results came out and we got 6th Place, winning a lovely trophy - well let's just say we had a ball!! We ended 2nd for piping overall and the drummers were 14th out of 30 bands. I would like to give our young drum corps a special mention, because while the pipe corps has been strengthened, this is the same drum corps that has come all the way from Grade 4B, so a great performance by Sandy, Calum, Shannon & Ryan and all the bass section.
Our next competition is Cowal at the end of August, so we go there with a bit more confidence after our good result at the Worlds.
JULY 2010: EUROPEAN CHAMPIONSHIPS - BELFAST
*The band has just returned from a highly enjoyable trip to the Europeans' at Belfast. A disappointing 16th place at the Europeans' doesn't reflect on what was a very good performance by the band.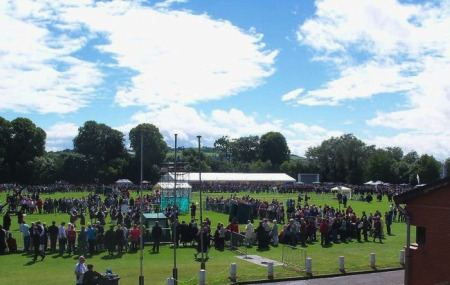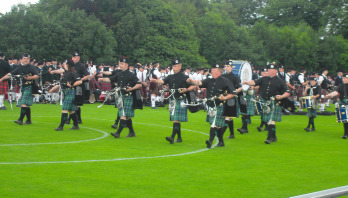 -


This Saturday (17th), sees the Islay Pipe Band head to the Loch Lomond Highland Games at Balloch to compete in the Grade 2 & Grade 3 competitions. Although we are in Grade 3, at a minor competition you can play up a grade, so we are going to try our luck.

We are delighted that 'Kevan Brown Ltd' from Tiree is sponsoring the bus to Balloch this weekend - as well as that he fits a fine bathroom and kitchen!! A huge thank you from all the band for this great sponsor.


(If anyone would like to sponsor the bus at a future competition, please phone Andrew on 01496 850271)

*We would also like to thank Lodge Kildalton 552 for the kind donation of £400 - many thanks!!

*****


NEWS UPDATE

.......
Great result from Balloch.....1st place Grade 3 & 2nd place Grade 2 - Well done!!!
The band recently held a bingo at Portnahaven Hall. Our thanks to Sheena, the pipe band ladies and the Rhinns ladies for all their superb baking etc. It was an amazing spread and even if you don't like bingo, it's worth coming for the tea itself!! After raffle, tombola, teas etc, the sum realised was a magnificent £700. Special thanks to our caller Eddie Morris and to Wendy for her hard work in the kitchen. We also held a very successful disco in Port Ellen on July 3rd and we would like to thank all who came and supported the band.