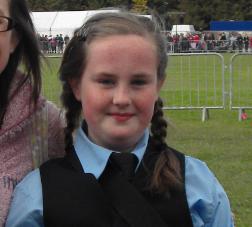 BORN: 2000
OCCUPATION:

AT SCHOOL


WHEN DID YOU START PLAYING?

OCTOBER 2009

BIGGEST INFLUENCE?

MARIE CAMPBELL

FAVOURITE BAND/ TUNE:

PIPE BAND - STRATHCLYDE POLICE
TUNE - 'CAPTAIN CARSWELL'
OTHER MUSIC: POP MUSIC

LIKES/DISLIKES:
LIKES - THE WANTED
DISLIKES - BRUSSEL SPROUTS!

HOW DO YOU THINK YOUR FELLOW BANDMATES WOULD DESCRIBE YOU
LOVEABLE AND LOVES FOOD!!!