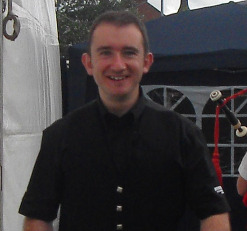 BORN: 1976
OCCUPATION:

I.T

WHEN DID YOU START PLAYING?
AGE 11. IT WAS EITHER PIPES OR THE TROMBONE & THE BEST WON!

BIGGEST INFLUENCE?
MY EARLIEST MAJOR INFLUENCE WAS HUGH BROWN, EX PIPE MAJOR OF KILMARNOCK PIPE BAND.

FAVOURITE BAND/ TUNE:

PIPE BAND - VICTORIA POLICE PIPE BAND
TUNE - 'CAMERONIAN RANT'
OTHER MUSIC: TOOL

LIKES/DISLIKES:



LIKES - WOTSITS
DISLIKES - CAULIFLOWER, BIRDS CRAPPING ON MY CAR AND SEAGULLS

HOW DO YOU THINK YOUR FELLOW BANDMATES WOULD DESCRIBE YOU:
INSPIRATIONAL!