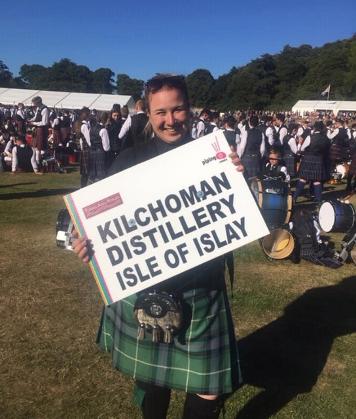 NAME: Linsay MacArthur
YEAR OF BIRTH: 1987

OCCUPATION: Primary Teacher

WHEN AND WHY DID YOU START PLAYING:

I started learning the chanter with Islay Pipe Band when I was 6 years old and then competed in my first competition when I was 10. I wanted to learn because piping was in the family, however, none of them were woman so I thought I would take up the challenge.
YEAR YOU STARTED COMPETING WITH ISLAY PIPE BAND: 1997

BIGGEST INFLUENCE: Duncan Heads

FAVOURITE TUNE TO PLAY: Train Journey North and Dora MacLeod

FAVOURITE PIPE BAND TO LISTEN TO:

Victoria Police, Inveraray or Saint Lawrence O'Toole
FAVOURITE BANDS/SINGERS TO LISTEN TO (NOT PIPE BANDS):

Bon Jovi, Guns and Roses and Dance Music

OTHER HOBBIES YOU HAVE:

Swimming, Travelling and going to BINGO!

FAVOURITE MOMENT IN ISLAY PIPE BAND:

There are so many moments. I love the social aspect of the band. We are all very close and have lots of laughs together. I know there are 1 or 2 stories that are more memorable than others!
HOW DO YOU THINK YOUR FELLOW BAND MATES WOULD DESCRIBE YOU IN 3 WORDS

Friendly, Happy and Talkative