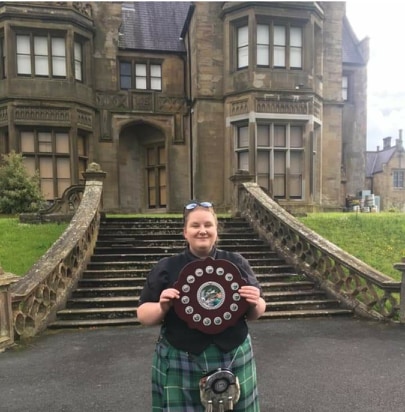 NAME: Rhona Macarthur
YEAR OF BIRTH: 1991

OCCUPATION: Key worker at the Co-op

WHEN AND WHY DID YOU START PLAYING:

I started learning when I was 13 and competed in my first competition at 14. I actually started learning the chanter before that and then wanted to learn the snare drum, however, when I went to the practice I went into the wrong room and ended up learning tenor!
YEAR YOU STARTED COMPETING WITH ISLAY PIPE BAND:

BIGGEST INFLUENCE:

Islay Pipe Band tenor section, we are all in it together.
FAVOURITE TUNE TO PLAY: The Golden Chanter

FAVOURITE PIPE BAND TO LISTEN TO: Inveraray

FAVOURITE BANDS/SINGERS TO LISTEN TO (NOT PIPE BANDS):

Luke Combs, Ziggy Alberts and Eminem
OTHER HOBBIES YOU HAVE:

Snorkelling, going sharking (only kidding!), drawing and I am learning to play the ukulele
FAVOURITE MOMENT IN ISLAY PIPE BAND:

Winning UK Champion Drum Corps in Grade 2, 2019
HOW DO YOU THINK YOUR FELLOW BAND MATES WOULD DESCRIBE YOU IN 3 WORDS:

A party animal!