ABOUT IAN 'SCUNNER' CAMPBELL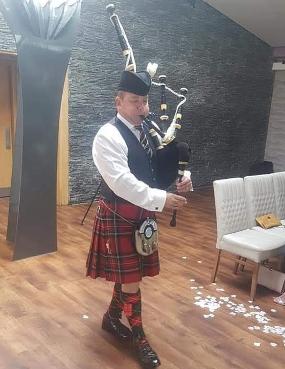 NAME: IAN CAMPBELL
YEAR OF BIRTH: 1967

OCCUPATION: GAS ENGINEER

WHEN AND WHY DID YOU START PLAYING:

Started playing when I was 7. Piping is in my family on my mother's side

YEAR YOU STARTED COMPETING WITH ISLAY PIPE BAND: 2009

BIGGEST INFLUENCE: My uncle
FAVOURITE TUNE TO PLAY: Highland Wedding, it's a classic

FAVOURITE PIPE BAND TO LISTEN TO:

It varies from year to year, but I really like Inveraray, Scottish Power and FMM. Their medleys are always very musical and pitch and tone usually perfect

FAVOURITE BANDS/SINGERS TO LISTEN TO (NOT PIPE BANDS): AC/DC

OTHER HOBBIES YOU HAVE: Love playing bowls

FAVOURITE MOMENT IN ISLAY PIPE BAND:

Every moment in this band is memorable. So many characters and we all get on great together.
HOW DO YOU THINK YOUR FELLOW BAND MATES WOULD DESCRIBE YOU IN 3 WORDS:

Funny, steady, loyal