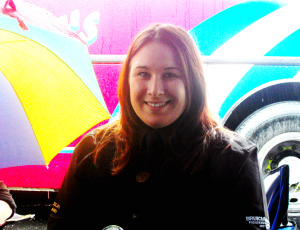 BORN: 1987

OCCUPATION:

TRAINING TO BE A TEACHER

WHEN DID YOU START PLAYING?

AGE 6. I STARTED ON CHANTER THEN AND GOT PIPES AT 9. I STARTED BECAUSE A LOT OF MY FAMILY PLAY THE PIPES (JAMES & ANDREW)

BIGGEST INFLUENCE:

GORDON WALKER AND DUNCAN HEADS - WITHOUT THE GRUMPINESS!!

FAVOURITE BAND/TUNE:
PIPE BAND - STRATHCLYDE POLICE PIPE BAND
TUNE - THE FAMOUS 'CLARA'S JOURNEY' ( HA, HA!!) AND 'TRAIN JOURNEY NORTH'
OTHER MUSIC: GIRLS ALOUD AND ROBBIE WILLIAMS

LIKES/DISLIKES:

LIKES - DANCING, SWIMMING , RANGERS AND ALLY MCCOIST
DISLIKES - DOLLS
HOW DO YOU THINK YOUR FELLOW BANDMATES WOULD DESCRIBE YOU:
CHATTERBOX, DIZZY AND TOP HEAVY!!