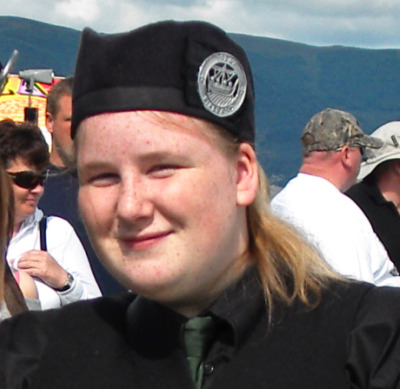 BORN: 1991
OCCUPATION:

STUDENT/ANIMAL CARE

WHEN DID YOU START PLAYING?

AGE 15. I STARTED ON PIPES BUT DECIDED TO BE A MUSICIAN AND BECAME A DRUMMER!

BIGGEST INFLUENCE?

MY MUM, DAD AND BIG SISTER

FAVOURITE BAND/ TUNE:

PIPE BAND - ISLAY PIPE BAND
TUNE - 'BALMORAL'
OTHER MUSIC: 303

LIKES/DISLIKES:


LIKES - FOOTBALL AND ANIMALS
DISLIKES - CELTIC

HOW DO YOU THINK YOUR FELLOW BANDMATES WOULD DESCRIBE YOU:
MAD AS A HATTER!!