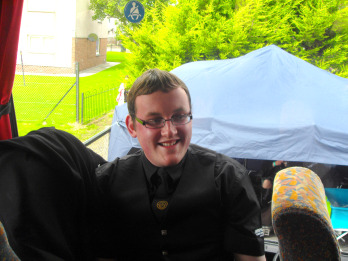 BORN: 1992
OCCUPATION:

STUDENT STUDYING SOUND ENGINEERING AT PERTH UHI

WHEN DID YOU START PLAYING?
AGE 13. I STARTED PLAYING WHEN MY GRANDFATHER PERSUADED ME TO GO ALONG TO A BAND PRACTICE.

BIGGEST INFLUENCE?

MY GRANDFATHER - JOE WIGGINS, JIM WHITEFIELD AND JIM KILPATRICK

FAVOURITE BAND/ TUNE:

PIPE BAND - SHOTTS & DYKEHEAD, ST LAURENCE O'TOOLE
TUNE - 'CAMERONIAN RANT'
OTHER MUSIC: LOADS OF STUFF

LIKES/DISLIKES:



LIKES - THE ODD PINT, CELTIC FC , BUYING HUNDREDS OF STICKS
DISLIKES - MOTHS AND RANGERS FC


HOW DO YOU THINK YOUR FELLOW BANDMATES WOULD DESCRIBE YOU:
SILENT BUT DEADLY!